We know cleaning our homes is essential, but there are still some tasks that we dread (it's fishing hair out of the plug hole for us!).
However, every now and then, a household task comes along that we need a little extra help with before we can tick it off our to-do list. Enter Google, our trusted source for how-to cleaning knowledge.
We've analysed 'how to clean' and 'how to wash' Google searches in the UK to reveal which rooms and household items we find most difficult to clean - and the results may surprise you.
Read on for:
The most dreaded rooms of the home to clean
The hardest household items to clean in the kitchen, living room, bathroom and bedroom
Expert advice on how to clean the trickiest items in each room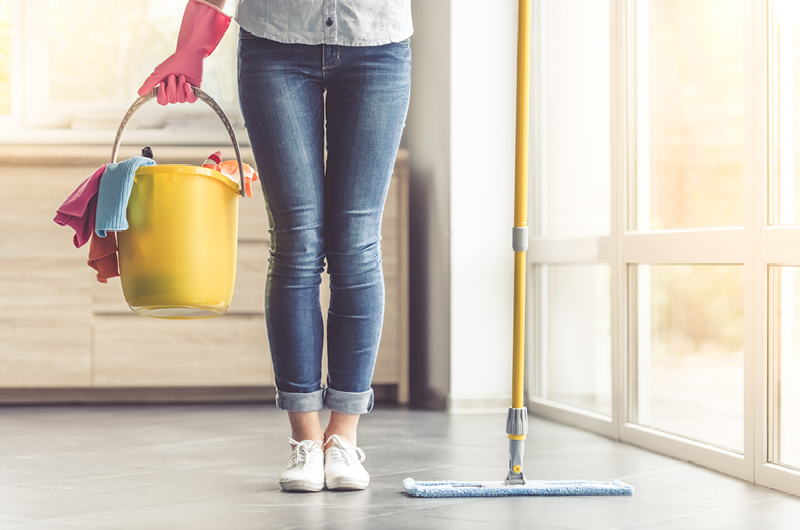 With over 1.3 million searches every year, the kitchen is officially the room Brits find hardest to clean
As the place where food is stored and prepped, it's hardly surprising that we want to make sure our kitchen and appliances are as clean as can be. On average, Brits look up kitchen-related cleaning queries a whopping 112,770 times every month - that's 1,353,240 times per year!
In fact, monthly kitchen-related searches are almost 200% higher than the room in second place.
The hardest rooms of the home to clean
Based on the average number of cleaning-related Google searches per year.
Kitchen - 1,353,240 searches
Living room - 456,000 searches
Bathroom - 415,440 searches
Bedroom - 314,160 searches
Office - 218,280 searches
Garden 190,680 searches
Dining room - 23,040 searches
The living room takes second place with a total of 456,000 searches per year, followed by the bathroom in third place (415,440 searches). This is surprising, when you consider the soap scum, grime and hair that can build up in a bathroom with use.
The easiest room to clean is the dining room, with Brits searching for cleaning advice just 23,040 times in a typical year.
As well as room-specific searches, there are 572,280 searches annually for general cleaning advice for everything from carpets and rugs to mirrors and walls.
The washing machine is the hardest kitchen appliance to keep clean, with 433,200 annual searches
Washing machine cleaning queries are asked 36,100 times per month on average - that's over 433,000 searches per year and almost double as often as oven-related cleaning questions!
Our research shows that the detergent drawer, seal and filters are the trickiest parts of a washing machine to clean, and we want to know how to clean them with vinegar and soda crystals.
Washing machine - 433,200 searches
Oven - 106,200 searches
Hob - 90,600 searches
Kettle - 85,800 searches
Dishwasher - 69,000 searches
Microwave - 62,400 searches
Cooking utensils - 51,600 searches
Extractor fan - 43,200 searches
Coffee machine - 36,600 searches
Iron - 34,800 searches
Cleaning expert reveals the supermarket item that can keep your washing machine gleaming
So how can you keep your washing machine clean? We spoke to Henry Paterson, a cleaning expert at Housekeep.com, to get his advice on how to clean the most important parts of your washing machine:
"Clean out the inside of your washing machine by running an empty cycle on the hottest setting with 500g of soda crystals, which you can buy in any supermarket. Just pour the crystals straight into the drum before you run the cycle.
"Wipe out the seal with a clean, damp microfibre cloth and a multi-surface cleaning spray. If the seal is particularly gunky, try cleaning it with white vinegar to remove any mould and limescale.
"Detergent drawers can usually be removed and washed up in the sink. Detach any parts that you can, before soaking in soapy water and scrubbing clean. An old toothbrush is handy to help get into any nooks and crannies. Then rinse off any suds and air dry, before reassembling.
"Before you place the drawer back into the washing machine, spray some multi-surface spray inside the drawer's slot and wipe it out with a damp microfibre cloth."
Washing your washing machine doesn't need to be a time-intensive task, as Henry explains, "Frequent washing of the doors, seal and drum will prevent a nasty build up of grime. Run an empty cycle once a month with soda crystals, and regularly wipe out the seal and drawer to keep your washing machine in tip top condition – without having to deep clean."
With 156,000 searches per year, keeping sofas clean gives homeowners the biggest headache in the living room
It's a close call in the living room but cleaning the sofa pips the TV to the post when it comes to the trickiest items to maintain.
Despite being widely considered the most low-maintenance material for a sofa, how to clean a leather sofa is the top sofa-related search, with leather sofa queries looked up 42,000 times in an average year.
In contrast, fabric manages 35,400 searches followed by suede (18,000 searches) and velvet (13,800 searches).
Sofa - 156,000 searches
TV - 138,000 searches
Rug - 84,840 searches
PlayStation - 32,400 searches
Chair - 19,680 searches
Fireplace - 19,200 searches
Upholstery - 9,600 searches
Cushions - 5,280 searches
Xbox - 4,200 searches
Coffee table - 480 searches
There's no one-size-fits-all for cleaning a sofa, expert reveals
The type of sofa you have will determine how you should clean it, as Henry explains:
How to clean a leather sofa
"Start by vacuuming your leather sofa using the soft brush attachment.
"When wiping leather sofas, avoid using soaps & detergents – which are generally alkaline. This is because leather has a low pH, and can react with alkaline products. It's best to look for a specific leather cleaning spray that's pH matched to leather furniture. Apply it according to the label instructions – you usually just spray and wipe. You can also buy cleaning wipes specifically designed for leather furniture.
"Once cleaned, you can also apply a leather conditioning product too if you'd like – this will help to nourish and protect the leather."
How to clean a fabric sofa
"Fabric sofas can be vacuumed thoroughly with the brush attachment on your vacuum. Make sure to vacuum the back and sides (where you can access them) and lift off any cushions to vacuum beneath. If you spot any larger items – like coins or rubbish that's fallen down the back – remove these by hand first.
"If your sofa has removable cushion covers, check the label to see if they're machine washable. If so, launder them as per the label instructions. Then hang them to dry before reassembling the sofa."
How to clean a suede sofa
"You'll need a suede brush and suede cleaning product for this. Begin by brushing the suede in one direction with your suede brush. Then apply your suede cleaning product as per the label instructions. This usually requires applying it directly to a cloth and then rubbing the product onto the sofa – which you'll want to do one panel at a time. Leave this to dry, before brushing again with your suede brush.
"Brushing regularly will help to keep your sofa dirt-free. To maintain your sofa, you can apply a suede protector product to repel dirt and protect against future stains. Just read and follow the instructions on the label carefully."
How to clean a velvet sofa
"You can clean your velvet sofa using the brush or upholstery attachment on your vacuum cleaner. Then brush with a velvet brush in the direction that the velvet's woven."
Brits find cleaning the shower more difficult than cleaning the bath or toilet
Given their very nature, showers are a prime spot for scum, dirt and mould to build up, so it's hardly surprising that they top the list of Brits' worst bathroom item to clean.
With a total of 153,840 annual searches, Brits need advice on cleaning pretty much every aspect of their shower, from glass doors and screens to drains and shower heads - even down to the rubber nozzles on it!
Shower - 153,840 searches
Tiles - 106,200 searches
Toilet - 100,200 searches
Towel - 18,600 searches
Bathroom accessories - 9,600 searches
Sealant - 7,800 searches
Bath - 7,800 searches
Taps - 3,600 searches
Plug Holes - 3,600 searches
Bath mat - 1,800 searches
Expert names white vinegar and Viakal as the secret ingredient to a sparkling shower
With everything from tiles to shower heads to clean, Henry explains which areas deserve the most attention to keep them fresh:
"When cleaning the shower, the most important task will be removing any limescale from the taps & surrounding area. You can use a limescale remover spray like Viakal to help with this. Spray directly onto the limescale and leave for a minute. Then rinse with a damp microfibre cloth and buff dry for a shiny finish.
"Be super careful if you've got any sensitive surfaces, like marble or natural stone in your bathroom - limescale removers can cause permanent damage to these surfaces.
"Use a general bathroom cleaning product for the tiles around the shower. Provided they're not marble or another sensitive material, you can also apply Viakal to tiles if there are limescale deposits on there.
"Don't forget to lift up the shower grate or plug if you can – and remove any hair or debris that's stuck in there."
How to clean a shower screen
With many searchers looking for advice on how to clean their shower screens, Henry offers the best way to achieve a streak-free shine:
"Use a limescale remover like Viakal on your shower screen and leave it to soak for a few moments. Then rinse off with a damp microfibre cloth and buff dry with a dry microfibre cloth. You can then spray a light covering of glass cleaner on the shower screen and buff it dry.
"You can also use a squeegee to remove the cleaning product from the shower screen without leaving streaks or water marks."
How to clean a shower head
As for a build-up of grime on the shower head, the solution could be as simple as white vinegar: "The easiest way to clean your shower head is to soak it for an hour or two in white vinegar.
"If your shower has a long hose, you can simply unhook the head and leave it on the base of the shower/bath in a bowl of white vinegar. If your shower head is fixed, you'll need to detach it to leave it to soak.
"Once the shower head has soaked, simply rinse it under warm water and wipe with a microfibre cloth."
Over 4,000 Brits ask how to clean their bedding every month
As you'd expect, the majority of bedroom cleaning queries centre around the bed. Totalling 155,640 searches, mattress cleaning questions take the top spot and rightly so. 
Your mattress is important. Most Brits keep theirs for several years, so it's only natural to proceed with caution and ask for advice before attempting to clean it.
Interestingly, despite being the part of the bed that should be most frequently cleaned, 4,080 Brits ask Google for advice on cleaning their bedding, including duvet covers, pillowcases, sheets and blankets, every month. That's a total of 48,960 searches over the course of a year.
Mattress - 155,640 searches
Duvet - 49,920 searches
Bedding - 48,960 searches
Pillows - 39,120 searches
Headboard - 9,600 searches
Mattress Topper - 5,640 searches
Bed - 3,120 searches
Mattress Protector - 1,680 searches
Wardrobe - 480 searches
Baking soda & regular vacuuming are the secret to a fresh mattress
Keeping your mattress fresh and maintaining its condition doesn't take long if you keep up with regular cleaning. Mattress Online's Steve Adams advises: "We recommend cleaning your mattress every time you change your bedding, so you're less likely to forget about it and let the dirt build up.
"Once the bedding is removed, start by vacuuming your mattress. Always use a clean vacuum attachment, ideally a brush. Work your way across the mattress, making sure to vacuum along seams and stitching which are prone to dust and dirt building up.
"To remove odours, lightly sprinkle baking soda onto your mattress and leave for at least an hour or longer if possible, before vacuuming your mattress thoroughly.
"For the majority of mattresses, we recommend using a mild detergent and cold water to spot clean any stains. Be careful not to soak your mattress and use a clean, damp cloth to gently rub the stain. Allow to fully dry before putting your bedding back on."
Regular maintenance should alleviate the need to deep clean your mattress but if you feel like you need to, take a look at our guide to deep cleaning your mattress.
Cleaning isn't always easy but there's no feeling quite like having a clean and tidy home. It can even have mental health benefits. With everything clean and in its place, your mind is less likely to feel cluttered which will help you feel more focused and better able to relax. Give our tips a try and make maintaining your home easier than ever before.