Have you ever wondered what's inside a Millbrook mattress and how it is made? I was very fortunate to go behind the scenes at Millbrook Beds as they showed us how they make their luxury mattresses.
I am very lucky to have been with Mattress Online from the very beginning. My job is to oversee the website development and even created the very first website for Mattress Online back in 2003. My role today is to ensure that our customers get the best possible experience when buying a new mattress. So I jumped at the chance to visit Millbrook Beds to see first hand the care they put into making their mattresses. I wanted to learn about their story so that I could share that with you today.
As a hobbyist filmmaker, I couldn't resist making a video of the day.
A bit about Millbrook's history
Millbrook Beds are based in my area of the country, Hampshire - known for the New Forest, the maiden voyage of the Titanic, and being the home of Jane Austen. Millbrook is a family run business which started in 1946 by Walter Croll where he opened up a small upholstery and bedding workshop in Millbrook, Southampton. Throughout the years their craftsmanship and work ethics have been enjoyed anywhere from the Houses of Parliament, embassies, cruise liners, film and TV.
The Millbrook Beds mattress range
We start the day by checking out the different mattresses they offer. We have been working with Millbrook Beds to make a unique mattress collection for Mattress Online. Over the years we've listened to our customers to find out what they like. We know the ideal range of mattresses that appeal to all budgets without compromising quality. We pay attention to our customer reviews. We've worked with Millbrook to combine what our customers want with the quality Millbrook offer. There is a standard for manufacturers to meet before we put our name on it.
Millbrook Beds: more than a mattress company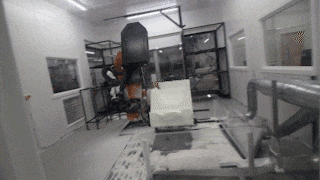 When we enter the factory it becomes very clear that Millbrook isn't your average company. We see the variety of work they do, including custom-made wheelchairs for after hospital care. Carefully made to fit each individual, the moulds are produced by a sophisticated robot that looks like something out of a sci-fi movie. It was fascinating to watch.
The secret ingredient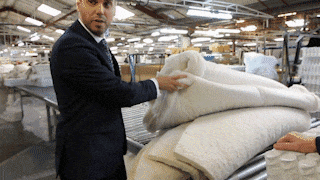 The Millbrook team are very proud of the fillings they put in their mattresses. They really do use high-quality natural filling such as Hampshire wool, cotton and cashmere. Being from Hampshire myself, I was very fond of hearing about the Hampshire wool they use. A single black tuft signifies the wool inside is Hampshire wool that you'll only find on their mattresses. It's black because the sheep have black faces. A little-known fact is that Hampshire sheep produce softer wool than sheep in colder parts of the UK.
When Millbrook add this wool, they put it on both sides of the mattress because wool is naturally fire retardant. This means it requires very little treatment to pass strict fire safety tests. Knowing this made me very excited as a parent with young kids. We always try to keep things as natural as possible.
The craftsmanship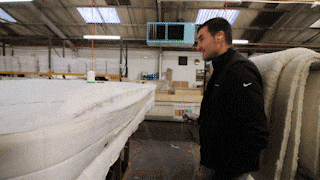 We learnt the differences between machine stitched and hand stitched mattresses. While machines are great, they simply cannot replicate some of the work carried out by a skilled person. The added stitches done by hand on the premium end mattresses give them much more support. This means that you don't roll off the end of the bed if you like to sleep near the edge. A huge bonus if you're like me and sit on the end of the bed to tie your shoes!
They also hand make their divan bases and headboards allowing their craftsmanship to bring the essence of the product to life.
Efficiency and quality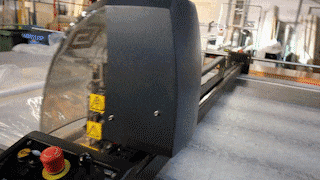 It is very impressive how efficient the production is. They carefully manage the mattress assembly with very few issues found by the quality assurance team. They use smart machinery to make things quicker and easier, such as cutting out fabrics for headboards. What strikes me is how Millbrook use machinery for parts that don't compromise quality but utilise handcrafted skills in areas that enhance quality. This is how they give the right balance of quality over cost. Simply put, upgrading to the higher range of mattresses means you really do get more. I can now see why when you see the amount of time an individual spends on each mattress.
The people of Millbrook Beds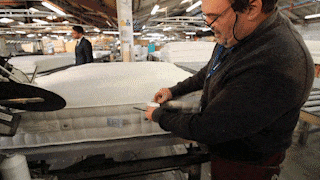 You really can't help but notice the talent and dedication of the team. As we walked around they were very excited to show us how they make the mattress. What was most surprising is when we asked how long they worked for Millbrook. We were hearing answers such as 7 years, 20 years and even 24 years! They showed as much passion for what they are doing today as I'm sure they did when they first started.
Final thoughts
We finish our day really inspired by what we have seen. The care, attention and quality of Millbrook's production line are what makes them truly remarkable. We're proud of what Millbrook have made and I can't wait for you to experience that.
Whether you prefer a medium or firm mattress, we are sure to have a Millbrook mattress perfect for you. Check out our full range to find out more!