Can you guess the character and movie from the iconic sleepwear?
Whether you like wearing cotton pyjamas to keep cool, or fleecy PJs to be warm, sleepwear is a highly personal choice.
But what about film? There are many iconic moments where our favourite film stars wear their pyjamas on screen and here we look at some of the most memorable PJs in our favourite movies.
Can you guess who they are simply from the picture?
The answers are below each image!
Kevin McCallister, Home Alone
Who can mistake the blonde bedhead and checked pyjamas of precocious kid Kevin, in the Christmas classic, Home Alone. There are so many iconic moments in this movie, but one of the best remembered has to be Kevin, groggily realising that he's alone in the house, with the gleeful line, "I made my family disappear!"
James Bond, Live and Let Die
There have been nine James Bonds, but three of those aren't often counted as they didn't play the part in multiple films. Roger Moore was officially Bond number 3, taking over the role from Sean Connery and featuring in seven movies between 1973 and 1985. No one can wear a robe and slippers quite like JB.
Jan Marrow, Pillow Talk
Played by the permanently lovely Doris Day, the role of Jan Marrow in Pillow Talk was an example of costume perfectly reflecting the character. Immaculate, ladylike and opulent, whether in her apartment or out and about. The chic turquoise suit recreated in this infographic was a popular style at the time, (1959) and influenced by Parisian glamour.
Phil Connors, Groundhog Day
When you feel like you're doing the same thing over and over, it's common to remark that it's "like Groundhog Day", but before the release of the film in 1993, starring comedy legend Bill Murray, that saying didn't exist. In the film the character goes to bed each night and wakes up to the same day repeatedly. Stuck in the time loop, he is driven to the point of insanity and tries to kill himself in various ways. The iconic moment in our infographic shows Phil spreading his arms wide as he jumps from a very tall building while still in his pyjamas. Thank goodness the cosmic lesson kept him repeating the day, despite his attempts, until he learned how to truly love someone other than himself.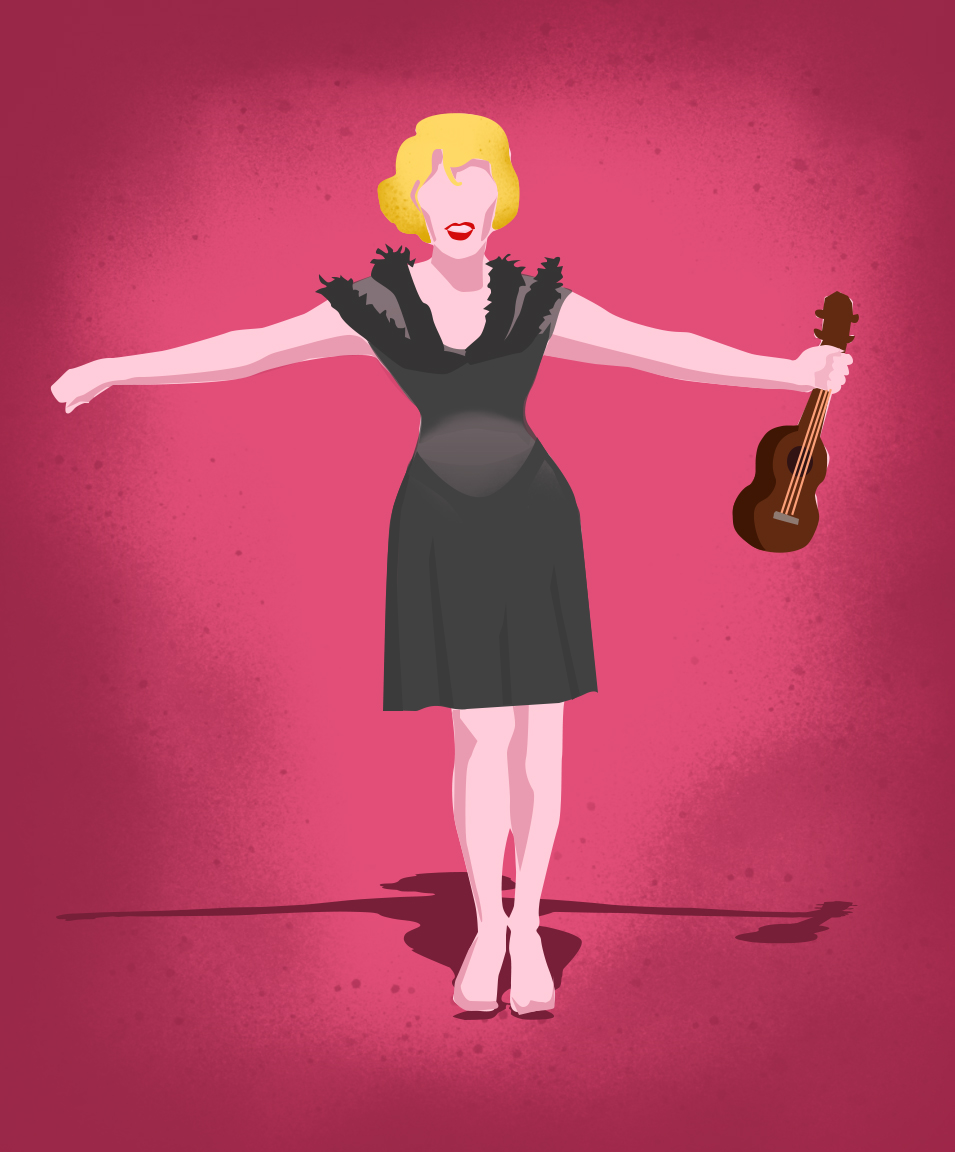 Sugar Kane, Some Like It Hot
One of the most adored and iconic Hollywood actresses of all time, Marilyn Monroe played the role of Sugar Kane in Oscar winning Some Like It Hot from 1960. The film won 6 Oscars, including Best Costume Design. It's no wonder when you see the many outfits used throughout the film, including the the nightwear while on board the overnight sleeper train. Monroe's lingerie is partly sheer, yet demure, with a thicker material covering all the right places. As her co-star Jack Lemmon's character remarks, she's "like jell-o on springs."
Holly Golightly, Breakfast At Tiffany's
In perhaps the most famous role by Audrey Hepburn, it is perhaps the black gown and huge shades that she wore outside Tiffany's to eat her breakfast that is remembered as her most iconic look. However, Hepburn also wore a man's shirt as a nightgown, paired with perhaps the most glamorous eye mask and ear plugs ever. That look is still around today, being used in countless films and photo shoots including Angelina Jolie in Mr and Mrs Smith and Julia Roberts in Pretty Woman.
Lisa Carol Fremont, Rear Window
Another old school Hollywood look, this Hitchcock film saw Grace Kelly play the sophisticated girlfriend of a wheelchair bound photographer who views the world through a window. In the film, Grace Kelly donned a satin nightgown and chiffon robe with her hair curled, creating one of the most glamorous film moments of all time.
Ron Weasley, Harry Potter And The Philosopher's Stone
Ron's practical stripy pyjamas are paired with a hand made jumper from his mum for Christmas. Perfect for the cold and drafty halls of Hogwarts, these are warm and comfortable pyjamas. Everyone should own at least one pair like this.
Wendy Darling, Peter Pan
As the oldest sister who is about to become a grown up, Wendy Darling wore a delicate pale blue nightie with ribbon detail. Her shape and stance are instantly recognisable as the young girl caught between childhood and adulthood.
Bridget Jones, Bridget Jones's Diary
Singleton Bridget Jones mends her broken heart by donning her most comfortable pj's and reading magazines while drinking wine. These penguin print pyjamas are certainly a look! But lets be honest, most of us ladies have owned a pair like this at one time or another.
Mr Bean, Merry Christmas Mr Bean
The iconic comedy character loves his striped pyjamas and brown teddy. In the 1992 Christmas TV special, we see him at home and realise just how much his beige and brown clothing choices are also reflected in the interiors of his apartment. Iconic? Yes. Fashion forward? No.
The Dude, The Big Lebowski
In this comedy by the Coen Brothers, The Dude, aka Jeff Bridges, often wears his pyjamas and patterned cardigan combo for his everyday tasks, like bowling, shopping and meeting up with friends. His laid back way of life has since spawned its own religion - Dudeism. Many followers incorporate elements of the movie into their lives, such as bathrobes and pyjamas.