Duvet Buying Guide: How to Choose A Duvet
When it's time to buy new bedding, you want to find the best duvet available. In order to ensure you pick the right duvet, there are three main things to consider:
1. Tog rating - This determines the warmth and thickness
2. Filling - This is especially important if you suffer from allergies
3. Size - We recommend getting one that matches your bed size. However, if your partner is likely to steal the covers in the night, a larger duvet could come in handy!
To make sure you're on the right track, follow the advice in our duvet buying guide below.
Duvet tog meaning: What is a duvet tog rating?
Every duvet comes with a tog rating, but what does it mean? A tog rating determines how warm or cool your duvet is. The higher the tog number, the warmer and more thermally insulated your duvet is. How hot you end up feeling in bed is ultimately decided by your duvet tog rating.
Usually, UK tog numbers range from 4.5 to 13.5. However, this can start at just 1 tog for the coolest duvets and go all the way up to 20 tog for an extremely heavy duvet. Because of changing seasons and temperatures, it's unlikely that you'll only need just the one duvet cover.
The best bedroom temperature for sleeping is between 16-18°C. However, it's not just room temperature to consider, there's also the duvet to factor in.
Duvet tog guide: What tog duvet should I get?
In order to get a really good night's shut-eye, sleep experts say that you should change your duvet with the changing seasons. We recommend the following tog levels:
We particularly recommend a 10.5 tog duvet if you are sensitive to changing temperatures, or if you get too hot and stuffy in the thickest tog.
If you're not sure which tog number is right for you, check out some of our top picks in our duvet tog guide below.
What tog is a summer duvet?
A 4.5 tog duvet is a lightweight option that'll keep you fresh during summer nights.
In-between seasons: 10.5 duvet tog rating
Is your body quickly affected by temperature changes? A medium 10.5 tog duvet is ideal in between summer and winter seasons.
What tog duvet for winter?
Wrap up warm with a cosy 13.5 tog duvet that's designed especially for cold weather.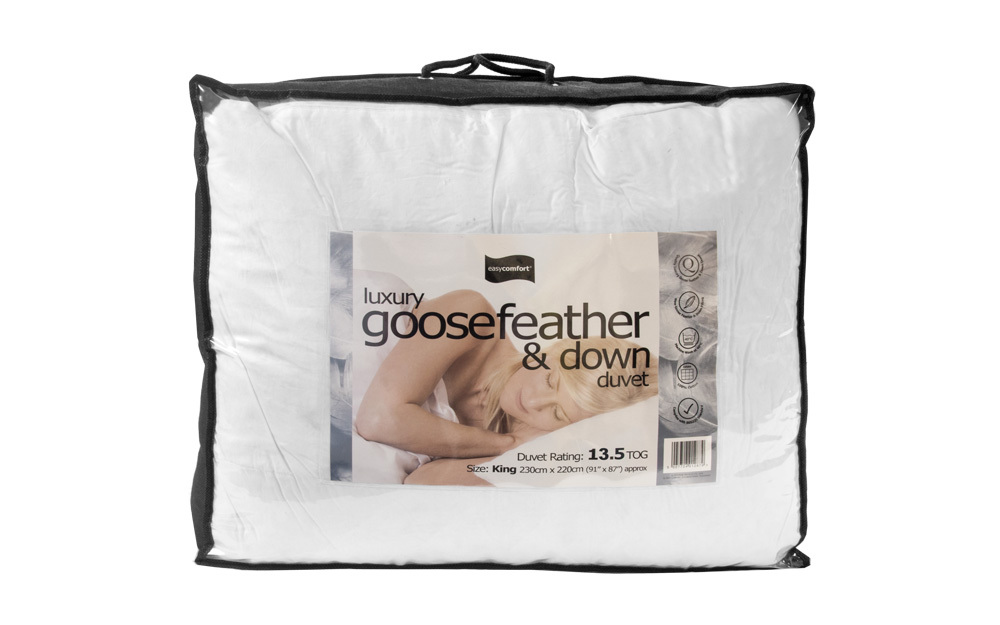 What tog duvet should I buy for my child?
Buying a duvet for a child? They may need a lower tog rating than normal. You could try a 4.5 tog duvet for your child.
Young children can't regulate their body temperature as well as adults, so they may get hotter at night. This means a child will feel warmer than an adult with a duvet of the same tog rating.
---
What types of duvet filling can I get?
You can choose from two main types of duvet fillings: natural or synthetic.
Natural fibres such as goose down are better at regulating temperature during the changing seasons. This means you'll feel toasty in winter and cooler in summer. They also allow your skin to breathe and feel lighter on your body.
Synthetic duvets are cheaper than natural duvet fillings, though many still swear by their comfort factor. They're better for allergy-sufferers as the hypoallergenic filling is less likely to cause a reaction. Plus, because they don't require animal products, synthetic duvets are environmentally-friendly.
Natural fillings
Natural duvet fillings are thought to be the most luxurious. They're super soft and breathable, offering a great night's sleep.
Read on to learn about the different types of natural fillings.
Duck feather and down
Duck down and feathers are the cheapest natural duvet filling options available. As you would expect, they are filled with a combination of feathers. They're known for being a comfortable option on a budget.
Down is the name given to the layer of finer feathers located beneath the outer feathers of water birds. It's widely recognised as a top-quality thermal insulator for covers, which makes it a highly popular filling choice.
Goose down
Although it's lighter than duck down, luxurious goose down provides the same levels of warmth because of its heat-insulating properties.
To be officially recognised as a legitimate goose down duvet, the filling must contain a minimum of 90% goose down. The other 10% is likely to be goose feathers. Premium goose down duvets are highly durable and should, with proper care, last for a long time.
We particularly love the Luxury 10.5 Tog Hungarian Goosefeather and Down Duvet, which combines both fillings for a naturally fluffy, snuggly feel.
Synthetic fillings
Synthetic duvet fillings are usually a cheaper alternative because they don't require animal products like down. This also means many synthetic duvets can be classed as vegan, which is perfect if you're looking for an environmentally-friendly option.
See the types of synthetic fillings below for additional information.
Hollowfibre
Hollowfibre is a synthetic material made up of a huge number of distinct strands. Each of these contains a hollow centre to trap air and heat.
In terms of feel and weight, hollowfibre duvets provide the same level of warmth, but are less heavy than down duvets. They also feel sturdier than duvets with a down filling and are more likely to keep their shape during the night.
Microfibre
Microfibre duvets contain millions of very fine fibres that are woven tightly. These packed fibres can provide a great level of warmth, especially if you opt for one with a higher tog rating. Most come treated with an anti-allergy coating so they're ideal if you who suffer from allergies.
We recommend the Harwoods 10.5 Tog Microfibre Duvet, as it has a mid-weight tog rating that works all year round. It's also available in a lightweight 4.5 tog to keep you fresh in summer.
Anti-allergy
If you have allergies, they're less likely to be triggered by synthetic duvets. That's because this type of duvet tends to be created with hypoallergenic features.
The best type of duvet for allergy sufferers is hollowfibre, thanks to its synthetic properties. These offer the same level of warmth and comfort as natural fillings but without the allergens.
Another major benefit that is these duvets can be machine washed at 60 degrees - the temperature at which dust mites are killed.
If you do suffer from allergies, try our Silentnight Tog Anti-Allergy Duvet, which is available in 4.5 and 10.5 tog.
---
What duvet size is best?
We recommend you choose a duvet size that's the same as your mattress. If you're not sure how big your mattress is, you can find the standard UK sizes below.
Although, if your partner likes to hog the covers in the night, we'd suggest getting a duvet that's one size bigger than your mattress!
| DUVET SIZE | TO FIT MATTRESS SIZE (IMPERIAL) | TO FIT MATTRESS SIZE (METRIC) |
| --- | --- | --- |
| Single duvet | 3' x 6'3" | 90cm x 190cm |
| Double duvet | 4'6" x 6'3" | 135cm x 190cm |
| King size duvet | 5' x 6'6" | 150cm x 200cm |
| Superking duvet | 6" x 6'6" | 180cm x 200cm |
---
What is the best type of duvet to buy?
The best duvet for you should meet your needs for warmth and comfort.
The best type of duvet should:
Be the right tog rating you need
Be the right size for you - check the size of your bed and choose a duvet that will fit
Be hypoallergenic
Include the comfort fillings you prefer
---
Now you know everything about the contents of your duvet, why not find the best duvet for you in our fantastic duvet range?
If you need more help, get in touch with our team if you want to discuss which duvet is the best fit for you.