11 Tips to Cool You and Your Mattress
We all know how hard it can be to fall asleep if you're too warm. The tossing, turning and overall restlessness makes it difficult to get a good night's sleep, but we're here to help you get the cooler sleep you've been craving. From changing your bedroom's climate to altering how you sleep, we'll show you how to cool your mattress.
Some mattresses, especially foam mattresses, are sensitive to heat, whether it's from your room temperature or your body temperature. In this article, we've focussed on changes you can make to your bed, your room and yourself so you know how to cool down your mattress. If you're looking to invest in a new mattress, we've explained the different types of cooling mattresses and how they can help you get a better night's sleep.
1. Choose a cooling mattress topper
Cooling toppers are a great way to cool your mattress down while also providing an extra touch of comfort. A topper is a layer that sits on top of your mattress to give it a new lease of life.
All you need to do is pick the cooling topper that suits you and enjoy an instantly cooler night's sleep. They're easy to remove, too, so you can take it off depending on the season and how warm or cold you feel in the night.
2. Try cooler pillows
You might think that your mattress is the main culprit for making you overheat, but your pillow is also a big factor. When it's warm, you may notice that your head feels a lot warmer compared to the rest of your body. This is because we lose around 10% of our body heat through our head, so by using a cooling pillow you will feel a difference in your overall body temperature.
We have a wide range of cooling pillows to help you fall into blissful sleep. Pillows can have a variety of cooling properties. Some pillows can be cool to the touch and some even have air vents in their structure to increase breathability.
3. Cool your bedroom down
A quick and cheap way to cool your mattress is to make some changes to your bedroom. The cooler the room your mattress is in, the cooler your mattress will become.
It's important to get your bedroom to the right temperature for you before you go to sleep. The recommended temperature is 16 - 18°C with 30% - 50% humidity. This environment promotes good sleep hygiene and keeps your room cool enough to prevent bacteria from growing.
Here are some easy ways you can keep your bedroom at the optimal temperature:
Use fans
Make sure that the blades of ceiling fans are turning counterclockwise to push the cool air to the floor
Try placing a bowl of ice-cold water in front of the fan so the cold air then gets circulated around the room
Keep your curtains shut
Keeping your curtains or blinds shut ensures that your bedroom won't be getting any of the extra heat from incoming sunlight. This means your room and your mattress will be nice and cool by the time you go to bed.
4. Increase air circulation
Again, this seems like an easy solution but we don't just mean opening your bedroom windows. Try to get as much air circulation in your house as possible and leave all your inside doors open. This allows the cool air to flow into your bedroom.
Open the attic hatch
Heat rises, so the rooms on your ground floor are more likely to be cooler than your bedroom. Opening your attic hatch means the warm air has somewhere to escape to on the top floor other than your bedroom.
5. Swap to cotton bedding
No matter how you sleep, your bedding makes a huge difference to your sleeping experience. We've explained how you can make changes to each part of your bedding so know how to keep your mattress cool at night.
Change your sheets
It's always best to buy sheets made from natural materials such as cotton or linen. This is because they're more breathable and can wick away moisture if you overheat easily. They're super soft and comfortable but also allow you to stay cool through the night.
Try linen pillowcases
As with sheets, investing in a pair of breathable cotton or linen pillowcases will instantly soothe you to sleep and help you keep cool during warm nights.
This next suggestion may seem a little unorthodox but it does the trick:
Before you go to bed, take your pillowcases off your pillows and put them in a ziplock bag
Place the bag in the fridge or freezer and leave them for about an hour
Remove the pillowcases and put them back on your pillows for an instantly cooler pillow
6. Use a lightweight duvet
The best way to still enjoy the ultimate cosiness of a duvet and keep your mattress feeling cool is to consider investing in a 4.5 tog duvet, the lightest duvet available.
If you'd like to find out which duvet is best for you, check out our helpful guide.
7. Try using a hot water bottle
It might seem weird for us to suggest a hot water bottle, but you could try this.
Fill up your water bottle and then put it in the freezer
When you're ready to go to bed, simply take it out of the freezer and put it under the covers
Half an hour before you go to bed, place it under your duvet so it's already cool when you go to bed
This is a fantastic way to cool your mattress because hot water bottles are designed to distribute heat quickly to keep you cosy, but it also works for keeping you and your mattress colder for longer.
8. Adjust your clothing
By making simple changes to what you wear in bed, you can dramatically reduce your body temperature in the night.
Keep all clothing light and loose-fitting
Try to wear natural, breathable materials like cotton
Tie long hair back to help keep your head and neck cool
These quick alterations will help you feel cooler in no time!
9. Improve your sleep routine
Your core temperature can also make your mattress warmer, so it's useful to lower your body temperature as much as possible before bed.
Here are some quick tips:
| Dos | Don'ts |
| --- | --- |
| Put a cold compress on your pulse points - it helps to cool you down quickly | Drink alcohol - it dehydrates you, which can make you feel warmer |
| Drink cool water before bed - it helps to hydrate and refresh you | Drink caffeine - it gives you more of a 'buzz', which can make you feel stuffy |
| Exercise in the morning - this avoids raising your body temperature before bed | Wear heavy or tight-fitting clothing - it can make you sweat more |
For more information on the relationship between sleep and exercise, check out our guide.
10. Swap your bed
If you feel like your mattress is always too warm, it might be worth checking your bed. There are two types of bed base and each has their pros and cons.
Slatted base
This base is found on most bed frames. There are slats that your mattress rests on with gaps in between. These gaps allow for better airflow to the mattress, which can help to make it a bit cooler.
Solid base
This base is often found on divans and is just a solid block that your mattress rests on. These bases are more suited for making your mattress more supportive and slightly warmer.
If you'd like to find out more about the impact your base has on your mattress, our helpful guide has a lot more information.
11. Invest in a cooler mattress
Do you prefer a cooler night's sleep all year round? Then it might be time to invest in a brand new cooling mattress that can cater to your needs. We have a fantastic variety of mattresses that are designed to give you a cooler and fresher night's sleep.
There are a wide range of cooling mattresses available in an array of comfort and support materials and firmness ratings. We're guaranteed to have the perfect one for you.
Read on to discover more about each type of cooling mattress.
Types of cooling mattress
Gel mattresses
Possibly the most innovative mattress material, gel mattresses have all the benefits of memory foam but without the warmth that some memory foam mattresses are associated with.
Gel foam is a type of memory foam mixed with gel beads to help reduce heat retention inside the mattress. This helps to keep your mattress cool at all times so you can stay cool and fresh every single night. The open cell structure of gel foams allows air to flow through the mattress with ease, making it extremely breathable. We have more information about gel foam on our gel mattress advice page.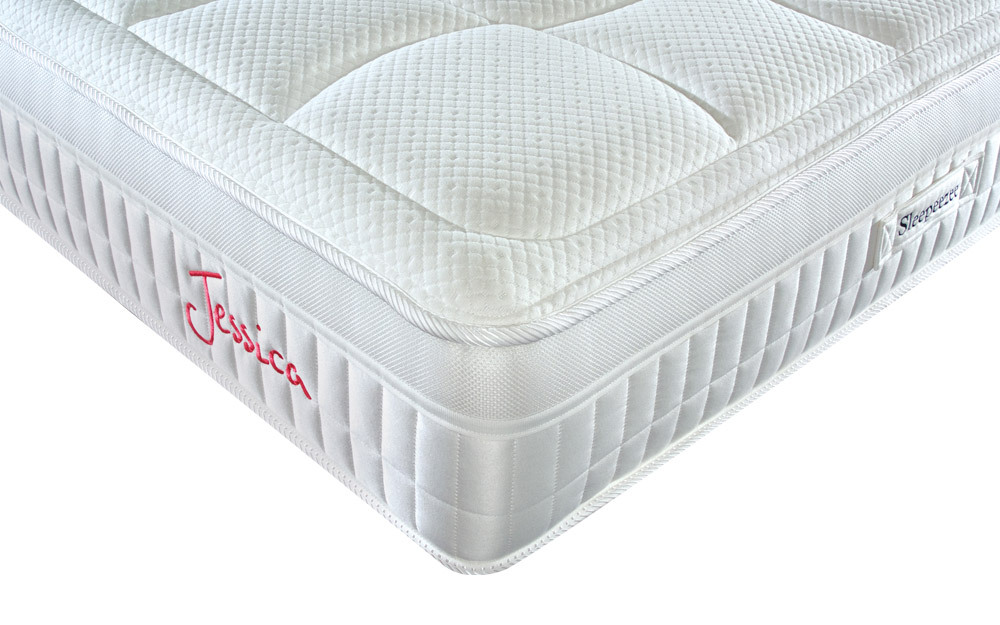 Latex mattresses
Plant-based latex is a natural material which regulates temperature organically without the aid of gel or other substance. So this eco-friendly mattress could be the perfect fit for you!
Latex has elastic properties which means it's quickly able to respond to your body shape and weight so you get support exactly where you need it. Latex mattresses are less likely to retain body heat so you don't need to worry about overheating during the night. If you want to find out more about this type of mattress, check out our guide on latex mattresses.
Natural mattresses
Mattresses made from natural materials are often highly breathable and have organic cooling properties. Some examples of natural comfort fillings in mattresses are wool, cotton, silk, bambo and cashmere.
Now, you may think that some of these fillings think they make your mattress feel warmer, but they're actually great for temperature control. The fillings in natural mattresses allow air to flow through the mattress, which makes it more breathable.
This means that these types of mattresses are great for keeping you cool in the summer. To find out more about natural mattresses, our tailored natural mattress advice page has all the information you need.
Now you know how to cool your mattress! By making small changes to your bedroom and sleeping environment and customising your mattress, you'll be able to enjoy a fresh and cool night's sleep in no time.
Browse our fantastic collection of cooling mattresses, toppers and pillows today and find the perfect solution for you!