Many of us share a bed with our pets; while some of them are invited in, others sneak in while their owners are sleeping! Either way, a lot of us are facing a nightly battle to claim our rightful share of the bed, and the duvet!
With this in mind, we can exclusively reveal how much of the bed our pets are really taking up. If you've ever woken up with a cat on your head or a dog glued to your side, now you'll know exactly what percentage of your bed you're losing to your pet.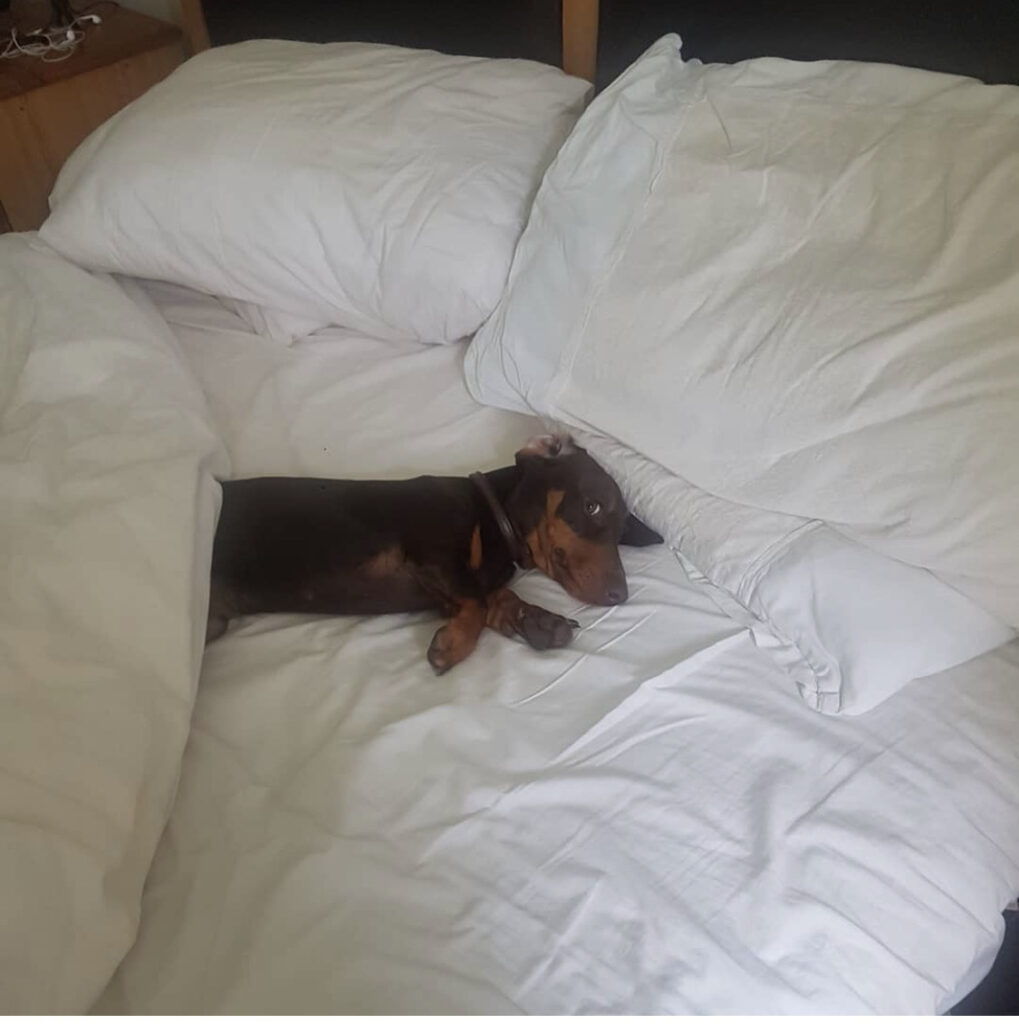 Labradors are the biggest space invaders, taking up more space in bed than the average woman!
If you own a Labrador, it's bad news; the breed has topped our list of the biggest bed-hoggers!
On average, a Labrador will take up almost a third (29.9%) of a double bed. To put that in perspective, the average British woman takes up 24.4% of a double bed, meaning Lab owners have over 5% less space than their dog!
Even with a king size bed, you can expect to hand over a quarter of the sleeping space to your Labrador!
Golden Retrievers and German Shepherds take up the second and third most space
Following closely behind in second place is the Golden Retriever, a breed that takes up 29.7% of a double bed. In third place, German Shepherd owners will give up 28.3% of their bed to allow their pooch to stretch out.
In a king size bed, that's just over a quarter (25.4%) for Golden Retrievers and 24.2% for German Shepherds.
Top Dog Breeds That Take Up The Most Room in Bed
| | | | |
| --- | --- | --- | --- |
| Rank | Dog Breed | % of King Size Bed Taken Up | % of Double Bed Taken Up |
| 1 | Labrador Retriever | 25.57% | 29.91% |
| 2 | Golden Retriever | 25.46% | 29.77% |
| 3 | German Shepherd | 24.21% | 28.31% |
| 4 | Labradoodle | 18.81% | 22.00% |
| 5 | English Springer Spaniel | 18.36% | 21.47% |
| 6 | Border Collie | 16.35% | 19.12% |
| 7 | Cocker Spaniel | 11.64% | 13.61% |
| 8 | Staffordshire Bull Terrier | 9.79% | 11.45% |
| 9 | Beagle | 9.78% | 11.43% |
| 10 | French Bulldog | 7.20% | 8.46% |
| 11 | Dachshund | 6.94% | 8.11% |
| 12 | Jack Russell | 6.64% | 7.77% |
| 13 | Cavalier King Charles Spaniel | 6.60% | 7.71% |
| 14 | Bichon Frise | 6.00% | 7.00% |
| 15 | Pug | 5.76% | 6.74% |
Top Bed-Hoggers by Breed Type
Large Breeds:
Labrador Retriever
German Shepherd
Labradoodle
Medium Breeds:
Golden Retriever
English Springer Spaniel
Border Collie
Small Breeds:
Cocker Spaniel
Staffordshire Bull Terrier
French Bulldog
Pomeranian, Chihuahua and Yorkshire Terrier are the best dog breeds if you like to stretch out
So which breeds take up the least amount of space in your bed? If you like to starfish in bed, these pocket-size pals are the perfect companions - you won't even notice they're there!
Taking up just 2.2% of a double bed, and 1.9% of a king size bed, the Pomeranian is the most compact dog on our list. In second place, it's the Chihuahua, which takes up 3.3% of a double bed and 2.8% of a king size bed.
The Yorkshire Terrier takes up the third least space - just 4% in a double bed and 3.4% in a king size bed.
Top 5 Dog Breeds That Won't Steal All The Room in Bed
| | | | |
| --- | --- | --- | --- |
| Rank | Dog Breed | % of King Size Bed Taken Up | % of Double Bed Taken Up |
| 1 | Pomeranian | 1.90% | 2.23% |
| 2 | Chihuahua | 2.84% | 3.32% |
| 3 | Yorkshire Terrier | 3.45% | 4.03% |
| 4 | Cockapoo | 3.73% | 4.37% |
| 5 | Shih Tzu | 4.85% | 5.67% |
Good news for cat owners, as they take up just 4.3% of the bed
They might have a reputation for sleeping on their owner's heads, but cats could prove to be the ideal bedmate. Our research shows that based on the average-sized cat, they take up just 4.3% of a double bed and 3.6% of a king size bed.
Should we share a bed with our pets?
It's the age-old question: should we share a bed with our pets? Ask the majority of pet owners and they'll likely answer yes but others have their concerns. We spoke to Lisa Artis, Deputy CEO of The Sleep Charity to get an expert's perspective on why we should and shouldn't invite our pets into our bed:
"With a growing number of people having a household pet – in particular a dog or a cat – a common question we get asked is 'is it ok to let my pet sleep in my bed with me?'
"Some people love having their furry best friend in bed with them as it helps them relax, gives them greater security, keeps them warm and provides comfort helping them to sleep easy. However, there is an argument that co-sleeping with pets not only disturbs your sleep but can impact on your health implications too, especially any allergies you may have."
We've listed the main benefits and drawbacks of sharing a bed with your pet below:
Benefits of sharing a bed with your pet:
They bring a sense of comfort and security.
They can make you feel calm and relaxed ahead of sleep.
They introduce different types of bacteria to your home, which could benefit the immune system long-term and reduce the prevalence of allergies (although more research is required).
Drawbacks of sharing a bed with your pet:
On the flip side, your pet could introduce you to a type of allergen that triggers an allergic reaction.
Likewise, your pet may bring in bacteria from outside that could cause illnesses.
Pets don't have the same sleep cycle as humans, so they may wriggle or wake up early and disturb your sleep.
Regardless of whether you and your pet snuggle up or have separate sleeping spaces, all that matters is that you're both getting a good night's sleep. If you do find you need a little more space to stretch out, why not check out our range of super king mattresses and beds?
Methodology
For each of the UK's most popular dog breeds in 2021, we calculated the average surface area of the dog, based on the breed's average length and height. We then worked this out as a percentage of the space that would be taken up in both a king size and double bed, based on their surface area. We repeated this process to find out how much space a cat takes up too.