Silentnight is the leading bed and mattress manufacturer in the UK. With over 70 years of experience and renowned for the highest quality and expertise - they know a thing or two about how to get the best night's sleep!
Here at Mattress Online, our Silentnight mattresses start from just £104.95, with options to suit every budget.
In this blog post, we run through the benefits of choosing Silentnight for your next mattress, as well as show you some of the best Silentnight mattresses we have available.
Disclaimer: The prices of these products may change over time.
7 benefits of a new Silentnight mattress
Silentnight is the UK's most trusted bed and mattress brand. Here are just a few reasons to buy a new Silentnight mattress:
1. Over 70 years of experience: Silentnight are experts in making high-quality beds and mattresses.
2. Always kept in stock: get your new mattress tomorrow, if you order before 4pm.
3. Award-winning products: many Silentnight mattresses include a Which? Best Buy Award.
4. Champions of safety and quality: tested in a state-of-the-art testing lab, to meet and exceed strict safety standards.
5. Made from sustainable materials: Eco Comfort technology helps to care for our planet.
6. Made in the UK: every mattress is expertly handcrafted in Lancashire.
7. Approved by the National Bed Federation: sleep peacefully. All Silentnight mattresses have the National Bed Federation's seal of approval.
But don't just take our word for it! Take a look at our customer reviews of Silentnight mattresses to see just how many people agree.
Best Silentnight mattresses by type
We know Silentnight is a great mattress brand, but which mattresses are most loved by customers? Read on to discover our pick of the best Silentnight mattresses, categorised by type…
Best Silentnight Mirapocket mattresses
Silentnight Mirapocket mattresses deliver support exactly where you need it. Exclusive to Silentnight, the Mirapocket spring system responds to your weight and movement as you sleep.
Each pocket spring works independently, so there's no transfer of movement. The result is a peaceful night's sleep and tailor-made support that adapts to you. Take a look at our top three Mirapocket mattresses below.
Memory foam comfort, pocket sprung support.
From £404.95
Memory foam comfort
2,000 Mirapocket springs
Rated 4.6/5
Essential comfort and Mirapocket support.
From just £234.95
1,000 Mirapocket springs for great support
Balanced medium firmness
Rated 4.6/5
Award-winning, eco-friendly comfort.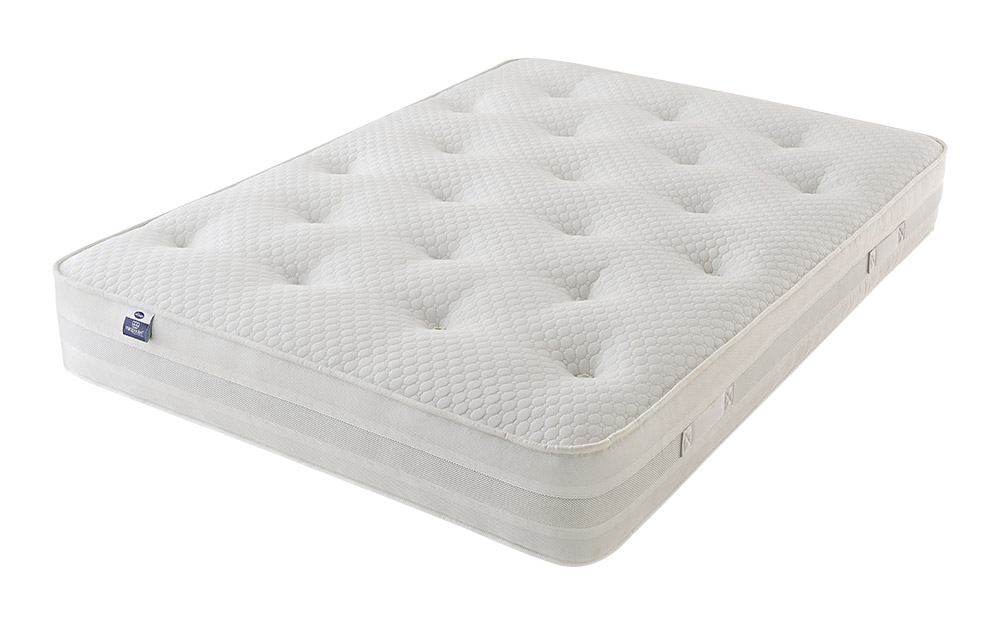 From £329.95
Which? Best Buy May 2020
100% sustainable Eco Comfort Fibres
Rated 4.7/5
Best value-for-money Silentnight mattresses
Want the best value for money and a great night's sleep? Our Silentnight and Layezee by Silentnight mattresses are sure to tick all your boxes! Discover cosy memory foam, pillow top comfort, sprung support - and so much more. We're sure you'll find the perfect mattress for you, at a price you'll love.
A great-value all-rounder.
From just £174.95
A firmer feel
Miracoil support
Rated 4.5/5
Memory foam, pillow-top comfort.
From just £203.48
Memory foam comfort
Plush pillow top
Rated 4.6/5
Best Silentnight orthopaedic mattresses
Orthopaedic mattresses are the ideal choice if you need extra support for your back. Firmer and more supportive, an orthopaedic mattress supports your posture as you sleep. This can help relieve aches and pains. Discover our top picks from Silentnight below.
Orthopaedic and extra firm.
From only £214.95
Orthopaedic to care for your back
Extra firm support
Rated 4.6/5
Best Silentnight kids' mattresses
Because a good night's sleep for your little one is a good night's sleep for you. Our best-selling Silentnight kids' range supports your child as they grow. Our children's mattresses feature breathable Eco Comfort technology and Purotex to help prevent dust mites.
Perfect for bunk beds!
From just £159.95
Sustainable Eco Comfort Fibres™
Ideal for bunk beds and high sleepers
Rated 4.7/5
Visit our baby and children's mattress range for more Silentnight children's beds and mattresses!
If you'd like some advice on the best mattress and bed for you, please get in touch. We'd love to help!