What are the symptoms of a dust mite allergy?
A dust mite allergy may cause you to experience:
Sneezing
Coughing
Itching
Wheezing
Watery eyes
These symptoms are similar to reactions for both hay fever and asthma, which makes it hard to discover the cause of the problem. If you experience these symptoms, check out our tips below for ways to reduce triggers in your bedroom.
---
What mattress should I buy for my allergies?
If you suffer from allergies, it's important to buy the right mattress. This can help reduce the intensity of your symptoms. Your new mattress should be described as hypoallergenic, anti-allergy or non-allergenic. It may also feature anti-allergy cover treatment and it may have the Allergy UK seal of approval.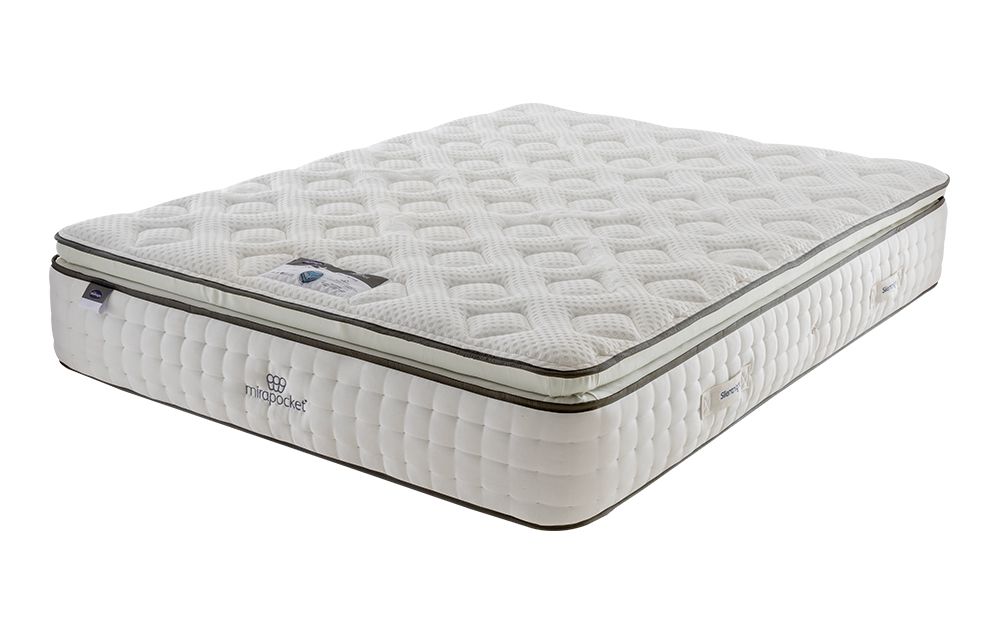 There are many different hypoallergenic mattresses available for you to choose from. Foam mattresses are a particularly good choice, as the solid foam structure makes them impenetrable to dust mites and allergens in your bedroom.
Discover the best foam mattress for you. You can choose a:
As well as hypoallergenic fillings, many mattresses are treated with dust-mite repelling substances such as:
Purotex®
Adaptive®
Fresche®
View all hypoallergenic mattresses
---
How long do hypoallergenic mattresses last?
We recommend that you replace your mattress every seven years. This is because:
Your mattress will no longer offer the support you need
Dust mites will start to settle within your mattress
---
How can I make my mattress allergy-friendly?
There are lots of ways you can make your mattress allergy-friendly. Firstly, it's important to buy a hypoallergenic mattress. Then, choose anti-allergy bedding, including a mattress protector, duvet and pillow. This will ensure the best protection against allergens including dust mites.
1. Purchase an anti-allergy mattress protector
An anti-allergy mattress protector provides extra protection against allergies and acts as a barrier for your mattress.
An anti-allergy mattress protector will:
Prevent dust mites penetrating your mattress
Protect your mattress from dirt, dust and small spills
Help your mattress stay fresher for longer!
Discover our full range of anti-allergy mattress protectors
2. Choose an allergy-free duvet
Non-hypoallergenic duvets can cause your allergy symptoms to worsen. Anti-allergy duvets feature hypoallergenic fillings to guard against dust mites and bacteria.
3. Invest in a hypoallergenic pillow
Anti-allergenic pillows are a great way to relieve your allergic symptoms. Made from memory foam, latex or gel, these pillows reduce the risk of dust mites thanks to their dense structure. Finished with a treated cover, this further helps to guard against mould, dust mites and allergens.
---
How can I make my bedroom allergy-free?
Follow our five top tips to help you reduce your symptoms and keep your bedroom clean and fresh.
Keep your room ventilated through the night with a slightly opened window.
Don't make your bed immediately in the morning - throw back the covers for at least 20 minutes to allow moisture to evaporate.
Regularly wash your sheets at 60 degrees - this helps to kill any bacteria and dust mites present.
Gently vacuum your bedroom, bed and mattress regularly to reduce dust build-up.
Keep pets out of the bedroom to reduce dust and allergens.
---
We hope this guide has helped to make your bedroom allergy-friendly and has improved your sleep quality. Check out our advice page on hypoallergenic mattresses and head over to our Sleep Better Blog for more tips on how to get a good night's sleep.