What is a Divan Bed?
Divan beds feature a specially designed hollow wooden base where the mattress sits. The base is constructed from a sturdy wooden frame, upholstered with fabric or leather. Some bases will include wadding underneath the fabric. The divan base is usually placed on castors or wheels for easy manoeuvrability, with many bases featuring handy drawers or compartments for storage.
What makes divan beds amazing is the fact that they are designed to work with any mattress. Just pair your chosen divan with any mattress of the correct size to get a truly comfortable night's sleep.
In this guide, we explain more about divan beds, including their benefits, the available types, and even how to assemble them.
Pros & Cons of Divan Beds
Divan beds remain one of our most popular bed options, with many people choosing them over more simplistic bed frames. Below we outline some of the main pros and cons of divan beds:
Benefits of Divan Beds
Practical
Most divan beds come with built-in storage, such as drawers, which can be great for storing away items such as bedding to keep your bedroom clutter-free.
Plenty of choice
The variety of divan beds available has increased significantly over the years and you now have a huge range of colours, fabrics, headboards, footboards and storage options to choose from. Customising your divan bed to suit your needs and decor has never been easier.
Easy to assemble
Typically, divan bases come in two separate blocks that fit together easily, so you don't have to be a DIY expert to assemble them. We explain more about how to assemble them later in this guide.
Supportive
Platform-top divan bases can make your mattress feel firmer and more supportive.
Cons of Divan Beds
There are very few drawbacks to divan beds but you may want to consider the below points before you buy:
Reduced under-bed space
Although divan beds offer a means to store clothes and bedding out of sight, a drawer system inevitably offers less space than would be available by simply stuffing items underneath a bed.
Tricky to hoover underneath
Because divan beds are close to the floor, it is tricky to vacuum underneath them. However, as many of the bases are on castors, it is very easy to move the bed so you can vacuum underneath.
Can be more expensive than standard bed frames
Divan beds are a luxury bed and do typically have a higher price tag than standard bed frames. This increased quality includes:
Fabric upholstery
Custom fabric
Customisable headboards
Support springs
Drawer storage
Ottoman storage
However, we do offer a wide range of divan bases suitable for any budget, so you're guaranteed to find the perfect one for you! Some of our divan beds and mattresses can start from as little as £150.
---
Types of Divan Bed Bases
Like bed frames, divans come with different support systems. These support systems work in harmony with your mattress and contribute to the overall support and firmness. There are two main types of support options for your divan base: a platform top base and a sprung divan base.
A platform top divan base is constructed from a wooden frame and a solid panel top. It's a great option if you're looking for firm support and a sturdy, solid base for your mattress. For more information, read our guide, what is a platform top divan base?
Made from a built-in spring unit, sprung divan bases offer more flexible, gentle support - slightly softening the feel of even the firmest mattress. This divan base is ideal if you prefer a softer, cushioned level of comfort. Want to find out more? Head over to our page, what is a sprung divan base?
---
Divan Bed Storage Options
Most divan beds have a lot of customisable options, including storage. This makes this type of bed extremely practical if you need additional space.
We have a wide variety of storage options for whatever your needs are. Below is a list of options we have to offer:
DIVAN BED STORAGE OPTIONS
Two drawers
Two drawers on either side of your bed
Four drawers
Four drawers, two on each side of the bed
Two full and two half drawers
Two full drawers on either side of the bed and two half drawers
End drawer
One drawer at the end of the divan
Full ottoman
Storage within the entire underneath of the bed
Half ottoman
Storage within the lower half of the bed
Drawer storage
If you plan on using your under-bed storage regularly, then choosing drawer storage may be best for you. This is because it's easily accessible, making it ideal for keeping things like clothes and toys.
Ottoman storage
Ottoman storage is great for keeping larger items that you don't need to access as often. For example, you could store all out-of-season clothes in your ottoman and then only open it again when you need them in a few months.
Of course, this doesn't mean you can't access your ottoman storage regularly, but these beds were designed to hold bulkier belongings.
If you can't decide between drawer or ottoman storage, some of our models offer both!
Either of these storage options means it'll be super easy to keep your bedroom nice and tidy!
---
Does my divan bed come with a mattress?
This is completely up to you! Most of our divans come without a mattress, but you can pair them with any of our mattresses. But if you wish to buy a divan and mattress set, we have collections from our top brands for you to choose from!
No matter which type of mattress you prefer, your divan will perfectly support you as you sleep. This is because these divan bases have been specifically designed to give you the best night's sleep. So, you can sleep soundly knowing that your bed will enhance the feeling of your current mattress and any new mattress!
---
How to assemble a divan bed
Divan beds are the easiest type of bed to assemble. Your bed will arrive in two base halves (or one whole piece if you buy a single-sized bed), complete with legs and, sometimes, a headboard if you've chosen one. If you have assembly instructions, please follow the guide that came with your bed.
If you do not have any assembly instructions, you can follow these step-by-step assembly instructions:
Turn the two base halves upside-down and attach the legs
Turn the bases over and push them together, securing them with the locking clips on either side
Add the headboard (if you've chosen one) using the pre-drilled sockets. The sockets are found at both ends of the bed, for convenience
While assembling your new bed, remember to be careful not to damage the base in any way. This can affect the warranty or guarantee attached to the mattress and it could potentially affect the way your mattress feels.
How to assemble a divan base (Silentnight)
If you'd like to see how to assemble a divan base, check out the helpful video below.
How do I put a headboard on a divan bed?
All divan bed bases come with a means of attaching a headboard. Some of our divan beds come with a headboard as standard, while others will give you the option of adding a headboard later.
When attaching a headboard to a divan base, you should always check the specific manufacturer's assembly instructions, which you'll find included within your packaging.
However, here's a quick guide to putting a headboard on a divan bed to explain the basics:
Find the pre-drilled sockets on the end of the bed - these are covered by fabric, with a sticker showing where you should pierce the fabric
Pierce this fabric with your screwdriver to create a small hole
Screw all the bolts into the holes, leaving around 3-4cm of the thread exposed
Slide your headboard onto this exposed thread
Tighten the bolts to secure it
Need to adjust the height? Simply loosen the bolts slightly, move the headboard, and re-tighten
Please be careful when assembling the headboard to not damage the bed or the fabric.
How to assemble a full-length headboard (Silentnight)
If you'd like to see how you should attach a headboard to your divan, watch the video below.
---
Divan beds: best sellers
Finding your perfect divan bed has never been easier! We've gathered a list of our best-selling divan beds to give you some extra help.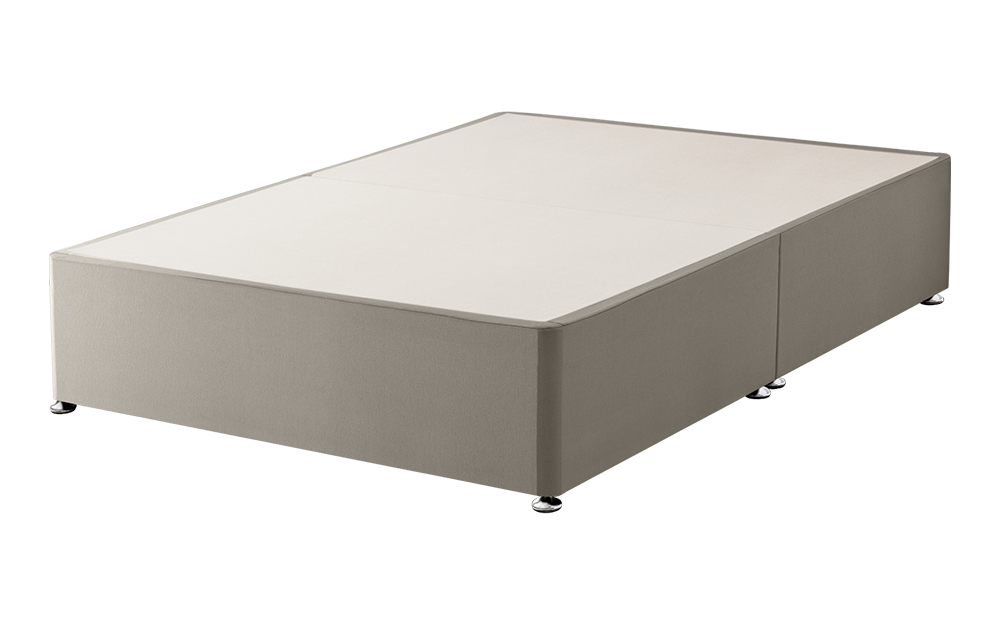 ---
Divan beds are the ideal solution if you're looking for a plush, supportive bed with built-in storage. With so many options to choose from, you'll be sure to find the perfect bed for you. If you need any extra help deciding, please don't hesitate to give us a call!