What is a Divan Bed?
Divan beds are made from two parts: a specially-designed divan base and a matching mattress. The divan base is constructed from a sturdy wooden frame surrounded by fabric. It is usually placed on castors or wheels for easy manoeuvrability. It can include drawers and a headboard. The base is then paired with a mattress. The divan base and the mattress are designed to work together to provide a comfortable night's sleep.
Known as 'divan bed', 'divan set' or 'divan', this type of bed is ideal if you are looking for a complete bed and mattress package. Alternatively, you can purchase a divan base only. This can be paired with the mattress of your choice.
Divan beds remain one of our most popular bed options, with many people still choosing them over more modern bed frames. Compared with standard bed frames, divans offer a wide variety of extra features and are great value for money.
1. Are divan beds easy to assemble?
Yes, divan beds are the easiest type of bed to assemble. Your divan will arrive in two base halves (one whole piece if you buy a single-sized divan bed), complete with divan legs and a headboard, if you've chosen one. Follow these step-by-step divan bed assembly instructions:
Turn the two base halves upside-down and attach the divan legs
Turn the bases over and push together, securing them with the locking clips on either either side
Add the headboard (if you've chosen one) using the pre-drilled sockets. The sockets are found at both ends of the bed, for convenience.
How to assemble a Silentnight divan base
---
2. Does my divan bed come with a mattress?
Yes - divan beds typically come complete with a mattress. This is ideal if you want to upgrade both your bed and your mattress - since you'll get a complete bed set package.
There are many options to choose from, including:
So no matter which type of mattress you prefer, we have the full divan set for you! These divan sets have been specifically designed to give you the best night's sleep possible, so you can sleep soundly knowing that the hassle of choosing a bed and a mattress has already been done for you.
However, if you don't need to upgrade your mattress just yet, you can choose a divan base only instead.
---
3. Are divan beds expensive?
Divan bed and mattress sets are usually much cheaper than purchasing a bed frame and mattress separately! We offer a wide range of divan bed and mattress sets to suit your budget - starting from as little as £150.
---
4. Do divan beds take up a lot of space?
Divan beds take up less space than a standard bed frame of the same size. This is because the width and length of a divan bed are the same as the mattress. The mattress sits on top of the divan base, rather than inside a frame. For this reason, divan beds are a particularly good option for small rooms, such as box rooms, guest bedrooms and loft rooms.
---
5. Does my divan bed come with storage?
Most divan beds have a lot of customisable options, including storage. Below is a list of all of the different varieties of storage options we offer so that your divan bed can meet your needs:
Two drawers
Four drawers
Two full and two half drawers
End drawer
Half ottoman
Full ottoman
These storage options mean it'll be super easy to keep your bedroom nice and tidy!
---
6. Does my divan come with a headboard?
Yes - although you can choose from a variety of styles, you'll need to specify which one you'd like. Simply take a look at our range of divans, and choose your favourite!
How do I put a headboard on a divan bed?
We recommend checking the specific manufacturer's assembly instructions, which you'll find included within your divan bed packaging.
However, here's a quick guide:
Choose which end of the bed you want your headboard
Find the pre-drilled sockets on this end - these are covered by fabric, with a sticker showing where you should pierce the fabric
Pierce this fabric with your screwdriver to create a small hole
Screw all the bolts into the holes, leaving around 3-4cm of the thread exposed
Slide your headboard onto this exposed thread
Tighten the bolts to secure it
Need to adjust the height? Simply loosen the bolts slightly, move the headboard and re-tighten
How to assemble a full-length Silentnight headboard
---
7. Are there different divan base options?
Like bed frames, divans come with different support systems. These support systems work in harmony with your mattress and contribute to the overall support and firmness. There are two main types of support options for your divan base: a platform top base and a sprung divan base.
A platform top divan base is constructed from a wooden frame and a solid panel top. It's a great option if you're looking for firm support and a sturdy, solid base for your mattress. For more information, read our guide, what is a platform top divan base?
Made from a built-in spring unit, sprung divan bases offer more flexible, gentle support - slightly softening the feel of even the firmest mattress. This divan base is ideal if you prefer a softer, cushioned level of comfort. Want to find out more? Head over to our page, what is a sprung divan base?
---
Divan beds: best sellers
Finding your perfect divan bed has never been easier! We've gathered a list of our best-selling divan beds to give you some extra help.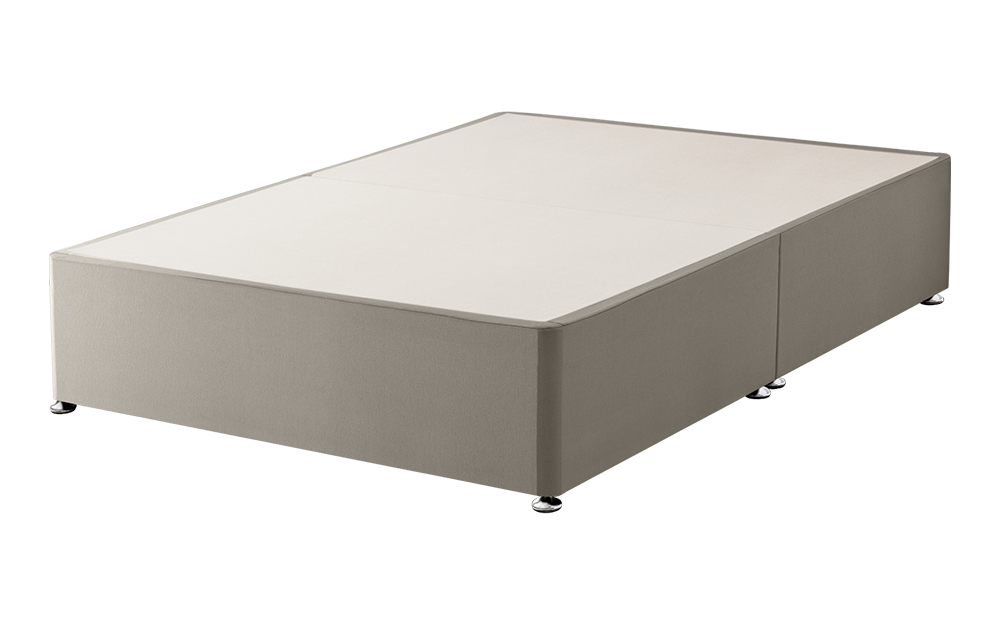 ---
Divan beds are the ideal solution if you're looking for a complete bed and mattress package. With so many options to choose from, you are sure to find the bed that suits your room. Should you need any extra help deciding, don't hesitate to give us a call.