What Is a Hybrid Mattress?
A hybrid mattress - or combination mattress - is a multi-layered mattress that combines springs and foam layers for the best of both comfort and support. They're a fantastic option if you love the bounce and support of a pocket sprung mattress, with the comfort of foam. They're also perfect if you often switch sleeping positions. Read on to discover more!
What are the benefits of a hybrid mattress?
Hybrid mattresses have many benefits. They're super-comfy, perfectly supportive - and they provide plenty of pressure relief, too. Read on to discover their benefits.
1. They're really comfy!
Hybrid mattresses are some of the comfiest mattresses around! The foam layer - whether that's memory foam, cooling gel or latex - contours to your unique shape and gives your mattress a soothing feel.
Combined with the supportive pocket springs underneath, the comfort layer gives the mattress a plush, luxurious feel. In fact, customers often describe sleeping on this type of mattress as if they're "sleeping on a cloud"!
2. They soothe aches and pains
Whether you're tired and achy from a long day, or you suffer from joint pain, you'll get better pressure relief with a hybrid mattress. That's because they feature both comfy foam and pocket springs - and that's a great combination for aches, pains and general discomfort.
3. You can choose the right firmness for you
Hybrid mattresses are highly versatile mattresses, and they're available in all sorts of firmness options.
4. You'll get support exactly where you need it
Since hybrids feature hundreds - even thousands - of individual pocket springs, you'll get top-to-toe support for every part of your body. Pocket springs deliver plenty of support for heavier areas such as your hips, and more gentle support for lighter areas.
5. You'll feel cool and fresh
Many include built-in cooling technology, making them a fantastic choice if you sleep hot. From breathable covers, to cooling gel and even charcoal bamboo memory foam, hybrid mattresses include all sorts of temperature-regulating features to keep you cool.
6. They're great for all sleeping positions
Whether you sleep on your back, side, front - or all three - a hybrid mattress is ideal. The foam layers add cushioning comfort for your hips and shoulders if you sleep on your side, and the pocket springs give great support for all sleeping positions. Find out more in our sleeping positions guide.
7. There's no roll-together
Unlike traditional sprung mattresses (often called open coil mattresses), pocket springs support each individual part of your body, rather than distributing weight across an entire row of springs.
Thanks to the superior support of pocket springs, you'll sleep in your own "zone" with a hybrid mattress. This means you won't roll into each other!
8. There's no motion transfer
Hybrid mattresses are great if you're a light sleeper, thanks to the combination of foam and pocket springs. Whether you need to get up in the night or need to switch sleeping position, they're much less disruptive than traditional sprung mattresses.
The magic of pocket springs is all down to their independent movement. Since each one is designed to react to the specific weight and pressure applied to it, other springs won't move. This means that your motion won't be transferred to your partner - and vice versa.
9. You'll get more sleeping space
Find yourself rolling towards the edge of your current mattress? Not with a hybrid! Many come with built-in edge support as standard.
This edge support is typically created using a firmer foam encasement known as "foam encapsulation". The reinforced outer edge support gives you more sleeping space - and no worries about rolling out of bed!
10. You'll get a more peaceful sleep
With a hybrid, you'll get more sleeping space, no roll-together - and no worries about rolling off, either. This means there's less chance you'll wake up throughout the night, and both you and your partner will enjoy a more restful sleep.
11. They're much easier to care for
In our busy modern world, the last thing we need are yet more chores! Compared with traditional mattresses, hybrid mattresses are easier to keep in great condition.
Many hybrids are single-sided, which means you don't need to flip them over. They often include removable, washable covers - so you can enjoy a cleaner, fresher feel.
12. They're more eco-friendly
Many hybrid mattresses are vegan-friendly and chemical treatment-free.
Take the Sleepeezee Hybrid 2000 PocketGel Mattress for instance. It's vegan-friendly and 100% recyclable at the end of its life, making it a healthier, greener alternative to traditional mattresses.
So if you're looking for a mattress that's kinder to you - and the planet - a hybrid mattress might be just what you're looking for.
13. They're easier to install
Often rolled up and boxed, hybrids are much easier to transport and install in your home. Known as "bed in a box", they're great if you have a smaller bedroom or a narrow hallway.
Browse all of our rolled mattresses today
---
Are hybrid mattresses better than memory foam?
Hybrid mattresses are superior in many ways. The sprung base supports your body, whilst the comfort layer provides cushioning comfort where you need it. However, many memory foam mattresses offer these benefits too!
Here are the main differences between hybrid and memory foam mattresses:
Hybrid mattresses have more comfort layer options. Conversely, memory mattresses typically only include a memory foam comfort layer.
Hybrid mattresses feature a sprung base. While memory foam mattresses can include springs, they may also use a high-density foam base instead.
Memory foam mattresses are loved by many, and remain a highly popular mattress type. The great news is that you don't have to sacrifice memory foam comfort in your quest for a hybrid - you can buy a hybrid memory foam mattress.
---
Are hybrid mattresses good for back pain?
Yes, hybrid mattresses are a great option if you suffer from back pain. Thanks to the individual support of every pocket spring, you'll get excellent spinal alignment and postural care.
Every pocket spring reacts independently to your unique shape and body weight. That means they can deliver more or less support - depending on the body area. The result is a perfectly tailored feel, with just the right amount of support where you need it and no more aches and pains.
Of course, there are many other types of mattresses that are designed to care for your back. Our range of orthopaedic mattresses are expertly made to ensure a healthy sleeping posture and high levels of back support.
Shop all orthopaedic mattresses
---
Do hybrid mattresses get hot?
In general, they shouldn't get hot. In fact, you should sleep cooler with a hybrid compared with traditional mattresses. Here's why:
| Hybrid mattress feature | How it keeps you cool |
| --- | --- |
| Cooling comfort materials | Reduces heat build-up |
| Pocket springs | Helps whisk warmer air away |
| Climate-control covers | Regulates your temperature |
| Air vents and breathable mattress borders | Circulates fresh air around your mattress |
Of course, it's true that there are many different types, and some can feel warmer or cooler than others.
If you're looking for a cool, breathable mattress, we recommend gel hybrid mattresses. The layer of gel foam adds a cooler feel and when coupled with clever climate-control cover technology, you can be sure of a more comfortable night's sleep.
Of course, there are many cooling options available. Take a look at our complete range of cooling mattresses!
---
How long do hybrid mattresses last?
They can last for many years, provided you care for them correctly. Many come with impressive warranties, too.
However, over time, your mattress will start to lose the comfort and support you expect from it. This is a gradual change and you may not notice it.
That's why we recommend replacing your hybrid mattress every seven years - to ensure optimal support, hygiene and quality.
---
Do hybrid mattresses come in a box?
Yes, many come in a box - but not always. Often, hybrid mattresses are vacuum-sealed and rolled up. They can then be placed in a box for extra protection on their way to you. This makes them easier to deliver straight to your door - and you can enjoy your brand new mattress sooner.
Often referred to as "bed-in-a-box", these types of mattresses are no different to mattresses that are delivered flat. In fact, since we can fit more into our vans, we can do fewer journeys. This makes rolled mattresses a much more eco-friendly option - you can literally help care for the planet as you sleep!
---
Which is the best hybrid mattress?
The best hybrid mattress is one that correctly supports you, and provides plenty of comfort for a great night's sleep. Of course, there are so many that it can be hard to know which one to choose.
We've taken the hard work out of mattress shopping and handpicked our 3 best hybrid mattresses just for you. Read on to discover your favourite!
If you want a decadently deep layer of memory foam comfort and plenty of pocket springs - look no further than the Horizon Discovery 1500 Pocket Memory Mattress!
Here's why we love it:
The double size is a 2020 Which? Best Buy
Not too firm - or too soft!
Super-deep 7.5cm memory foam
1500 pocket springs for the best support
Great-value 10 year guarantee
If you think the Horizon Discovery is the mattress for you, check out the video below for more information.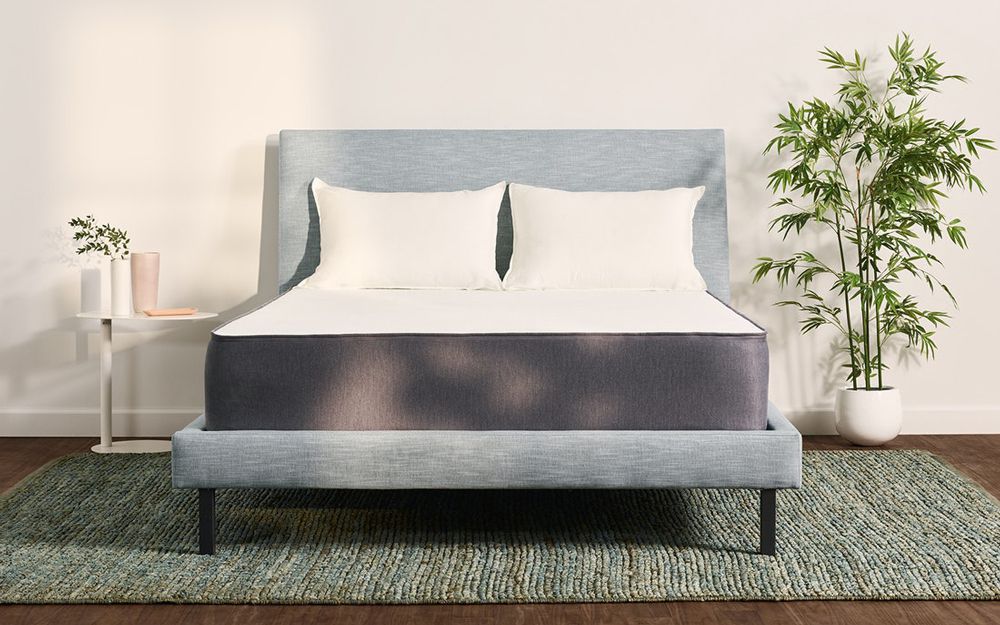 The Casper Hybrid Mattress is the most luxurious mattress in our Casper mattress range. It features not one - but three! - pressure-relieving and remarkably comfortable foam layers.
Here's why we love it:
That "just-right" Casper feel
Better breathability to keep you cool
Perfect pocket sprung support
Worry-free 10 year guarantee
From the 1500 miQro® pocket springs to the Simbatex foam layer, the Simba Hybrid Essential 1500 Pocket Mattress soothes and comforts after a long day. It's simply the perfect mattress!
Here's why we love it:
Super-comfy layer of Simbatex
Medium-firm for great body support
Keeps you fresh as you sleep
Generous 10-year guarantee
---
Hybrid mattresses are a great option if you're looking for the perfect balance of comfort and sprung support. Take a look at our memory foam hybrid mattresses or hybrid gel mattress deals available now - all with free next-day delivery! If you'd like any further information, please don't hesitate to get in touch.