What is an Adjustable Bed?
An adjustable bed allows you to customise your bed's alignment so that you get the best possible night's sleep.
For years, adjustable beds have been perceived as beds for the elderly or those with mobility issues. However, adjustable beds have now grown in popularity and are used by people of all ages for health and lifestyle benefits.
Some people, especially those with health concerns, benefit from having their head elevated while others feel more comfortable with their legs slightly raised. An adjustable bed makes this simple.
Adjustable options can benefit you in other ways, too. If you want to relax and lift your head to the perfect, comfortable level to read a book or browse your tablet, you can do it all at the press of a button.
In this guide, we cover everything you need to know about adjustable beds, from the different types to their benefits.
Browse our adjustable beds today
Benefits of adjustable beds
Adjustable beds offer numerous benefits. The main three are:
Relieving chronic pain
Improving your circulation
A better night's sleep
1. Relieving chronic pain
Adjustable beds help you recline in various positions and angles based on your needs. This can help ease chronic pains related to arthritis, sciatica, and various other issues. The option to select different leg and head positions takes pressure off aching joints, giving you time to recover as you sleep and ensuring less pain and easier mobility in the morning.
2. Improving your circulation
Lifting either your upper back or lower body improves circulation and can assist with recovery from mobility issues. For example, if you suffer from oedema in your legs, you could benefit from an adjustable bed. Position the bed so your lower half is above heart level during the night to alleviate some stress.
3. A better night's sleep
Sleep is the body's chance to recharge and the more comfortable you can make yourself, the better-quality sleep you'll get. Adjustable beds help you find the perfect sleeping position, enabling you to fall asleep faster, remain asleep longer and wake up more refreshed.
Medical conditions helped by adjustable beds
If you have a medical condition, adjustable beds can be used on the recommendation of your doctor or physiotherapist. Below are just some of the most common conditions that can be eased by using an adjustable bed.
Adjustable beds can be lowered or raised if you struggle to get in and out of bed.
Set the perfect sleeping position to help ease any back pains you may have.
Promotes healthy circulation and improves comfort if you are bed-bound.
Rather than using pillows or cushions to raise injured body parts, adjustable beds allow different injuries to be elevated to help reduce swelling.
Sleeping in a more upright position reduces the chances of airways being blocked helping to reduce snoring.
If you suffer from digestion issues, an adjustable bed allows you to sleep in a raised position which can help your body to process food more effectively. It can help with issues such as hiatus hernia, gastric reflux and heartburn.
Sleeping with your legs raised can aid circulation at night, which is especially useful if you spend a lot of the day on your feet.
Elevating your feet at night can reduce swelling.
Day-to-day benefits of an adjustable bed
The benefits of adjustable beds aren't limited to those with health concerns. If you're looking for a customisable sleep experience, an adjustable bed is a great option for:
Instead of sitting uncomfortably in a regular bed, an adjustable bed can offer an elevated seating position that will eliminate any neck or back pains.
Different sleep positions for couples
If you or your partner prefer different sleeping positions, adjustable beds have remote controls so you can adjust your own side of the bed.
Those who are stood up most of the working day can suffer from swollen feet. Having a bed that elevates your feet at night will reduce swelling and may help prevent the chance of developing conditions such as varicose veins.
A healthier, comfier alternative to a regular bed.
View our adjustable mattresses and beds
---
Types of Adjustable Beds
There are two main types of adjustable beds available: Lifestyle and Profiling. Below, we explain the difference between the two and the benefits they offer.
Lifestyle adjustable beds are less customisable than profiling adjustable beds.
Profiling beds are better suited to those with more specific support needs and medical conditions.
What bases are available for adjustable beds?
Adjustable beds are available with a range of different bases. Some other adjustable beds on the market are available on legs. Legs raise the bed so that a hoist can be fitted underneath, which is a great option for those with mobility difficulties. If you have any questions about our adjustable bed base options, simply give us a call!
What do adjustable beds look like?
For years people have been put off adjustable beds due to their size and appearance. However, developments in design mean that adjustable beds are now slimline and available in a range of different style options.
Not only does an adjustable bed offer a comfortable sleeping position, but it is also a stunning bedroom centrepiece.
You can find smart and minimalist styles comprised of leather, wood and fabrics, which is perfect if you're looking to combine function with beauty. You can also choose a colour scheme to fit in with the rest of your bedroom décor, and all adjustable beds come with a headboard to complement your interior design.
If you'd like a closer look at what adjustable beds look like, check out some of our popular styles below: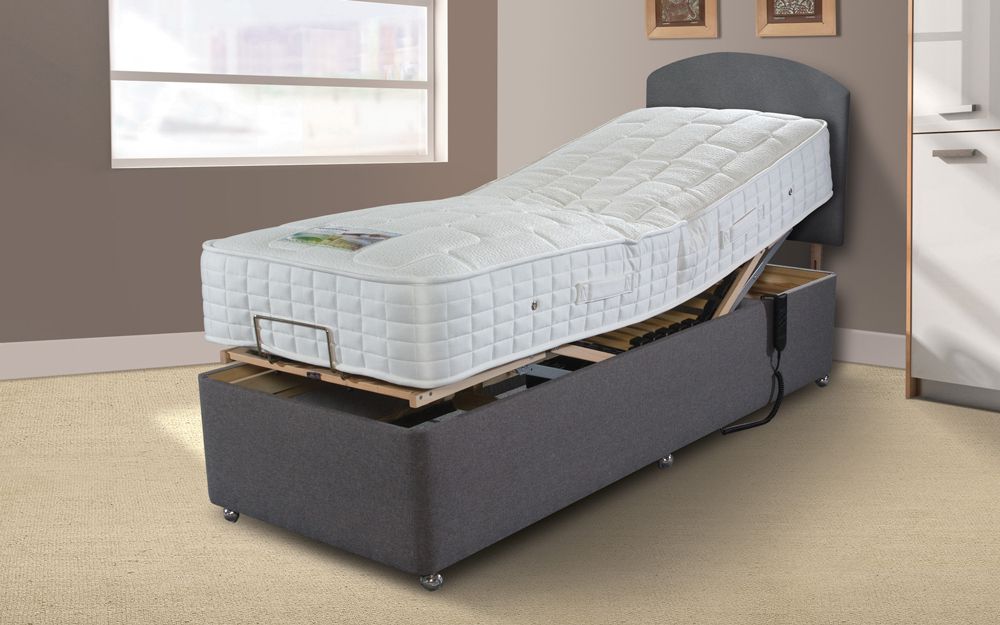 Do adjustable beds come with headboards?
All our adjustable beds are sold with a headboard that matches the divan base. With latches on the back of the adjustable base, headboards can be attached or removed with ease.
If you want a larger bed, you can put two adjustable small singles together to make a king size, or two adjustable single beds to make a superking. For two single adjustable beds pushed together, there are latches for bigger headboards to slot in place at the back of both units. This is ideal if you want to create a larger bed.
---
What else should I know about adjustable beds?
There are some other important things to know about adjustable beds, such as weight limits. Plus, there are some misconceptions about how noisy they are. Read on to find out more essential details you may need to consider.
Is there a weight limit for adjustable beds?
An adjustable bed mechanism may not perform to its full potential if it is under added pressure. This is why adjustable beds come with weight guidelines. All of our single adjustable beds have an 18 stone (115kg) weight limit.
Adjustable bed specialists can provide extra reinforcement for bed frames and heavy-duty motors for those who don't fall within this weight limit. Different manufacturers have varied guidelines so be sure to check before purchasing. If you have any queries, don't hesitate to get in touch.
Are adjustable beds loud?
Adjustable beds are silent when stationary. They do make a slight noise as you alter the position of your bed, but this is a lot quieter than it used to be. It certainly won't wake the neighbours!
How much do adjustable beds cost?
Thanks to the customisable sleep experience they offer, adjustable beds are more expensive than traditional beds. However, the price you will pay will depend on a number of factors including:
King and superking beds will be more expensive than a single adjustable bed, for example.
The type of adjustable bed
Lifestyle adjustable beds are usually cheaper than profiling adjustable beds as their functionality is more limited.
Premium models will cost more than more basic adjustable beds.
Here at Mattress Online, prices for our adjustable beds can start at around £1,300 for a single adjustable divan bed set. If you already have an adjustable bed base and are looking for a new adjustable mattress, prices can start at around £300 for a single adjustable mattress.
Do adjustable beds work for side sleepers?
Yes, an adjustable bed is a great choice for side and back sleepers. We wouldn't advise choosing an adjustable bed if you are a front sleeper, as you need a flat surface to sleep on.
If you are a side sleeper and want to use an adjustable bed, we recommend having both your head and feet slightly raised.
---
What is the best mattress for an adjustable bed?
Not all mattresses are equal, and some won't work on an adjustable bed. A standard spring mattress, for instance, wouldn't be suitable and could, in fact, cause increased discomfort as you sleep. It might also damage your bed, and certainly the mattress itself.
The best type of mattress for an adjustable bed is one which can bend easily, is a perfect fit with the frame, and doesn't 'ruck up' when the mechanics are in operation. Ideally, your mattress should also include handles for easy moving and cleaning when required.
How much do adjustable mattresses cost?
In recent years, the price of an adjustable bed mattress has fallen to become much more affordable. Our adjustable mattress range here at Mattress Online can start from around £300.
How big should an adjustable mattress be?
We advise that your mattress is 200cm (6'6") long. This is so that it fits flush within the adjustable bed frame and is secured in place when you change the position of your bed. Adjustable mattresses are built to these exact dimensions. However, if you are looking to purchase a standard mattress then please keep these guidelines in mind.
It is also important that your mattress is the right depth to ensure your adjustable bed works to its optimal performance. Mattresses should be less than 10 inches (25cm) thick to work effectively on an adjustable bed. A mattress deeper than this will struggle to adapt to the movements of an adjustable bed, creating a poor sleeping position and an uncomfortable night's sleep.
What adjustable bed mattresses are available?
When buying a mattress for your adjustable bed, it's important to know what will and won't work. Nearly all mattress types work on adjustable beds but there are some exceptions.
Here are the mattress types that are suitable for adjustable beds:
Not all mattresses will work on an adjustable bed as standard mattresses can't adjust to the movements of the bed. Using a mattress that isn't suitable for an adjustable bed is likely to:
Damage your mattress
Damage the adjustable bed
Create more aches and pains while you sleep
Although some standard mattresses can be used in conjunction with an adjustable bed, we highly recommend those specifically made for adjustable beds. This is because they are designed with regular bed movement in mind.
Here are the adjustable mattresses we have available here at Mattress Online:
Shop all adjustable mattresses
---
How we can help with your adjustable bed
If you choose an adjustable bed from Mattress Online, you can rest easy knowing you're in good hands. Our service includes:
Installation of your adjustable bed in the room of your choice
A demonstration on how to use your adjustable bed
Answers to any questions you may have
An instruction manual for ongoing support
Like with every other bed, we still recommend that you change your bed and mattress every seven years. With this in mind, our adjustable bed guarantees offer extra peace of mind. All of our adjustable beds include a:
7-year guarantee
2-year motor guarantee
So, you have all the cover you need until the time comes to buy your next bed!
---
Are adjustable beds eligible for VAT relief?
If you are registered disabled, you could be eligible for VAT relief on our adjustable beds. Qualifying for this includes meeting certain criteria and filling out a declaration form. Follow this link to find out more about how you can make a claim.
---
If you're looking for a bed that will offer excellent health and lifestyle benefits, then an adjustable bed is a great choice. Easy to operate and set a sleeping position that is perfect for you, an adjustable bed is sure to end your nights of uncomfortable sleep. If you have any other queries about adjustable beds, then don't hesitate to get in touch.