What Is a Reflex Foam Mattress?
A reflex foam mattress is a mattress made of polyurethane foam, manufactured and branded 'Reflex' by British Vita. This is a high-density responsive foam that provides support and firmness.
Reflex foam is made up of tiny holes that slightly adapt to your body shape, but bounce back against you at the same time. Often found in orthopaedic mattresses, reflex foam can offer a firmer feel and provide good spinal alignment.
Reflex foam is very flexible and regains its original shape very quickly, hence the name 'reflex'. This type of foam is very versatile and can take various formations within a mattress.
Browse our reflex foam mattresses
Reflex foam mattresses: the benefits
There are many advantages to choosing a reflex foam mattress. Here are the main benefits:
Naturally hypoallergenic
Relatively cheap in price
Durable
Better support and minimal settlement
Healthy weight distribution
Excellent spinal alignment
---
Where is reflex foam found in a mattress?
Mattresses can feature reflex foam in five main ways. Read on to find out more!
1. Full block of reflex foam
Mattresses made up of just reflex foam often provide a firmer sleep surface and, due to low production costs, are usually cheaper in price. They are ideal if you don't like sprung mattresses or the warmth that can be associated with some memory foam mattresses.
2. Support layer on top of springs
In some mattresses, reflex foam sits on top of pocket springs or open coil springs to add extra support to the mattress. This layer of reflex foam brings firmness to the mattress and supports correct spinal alignment.
3. Base layer in springless mattresses
Reflex foam is often used as the base layer within springless mattresses. A layer of reflex foam provides an extra level of firmness for a mattress that memory foam alone doesn't offer. This layer of reflex foam largely contributes to the firmness rating of a mattress while other layers offer enhanced comfort and luxury.
4. Within foam encapsulation
Foam encapsulation is where a row of springs is taken out of the mattress and replaced with a supportive foam such as reflex. Not only does this help prevent the feeling of roll-off, but it also maximises your sleep space and provides edge-to-edge comfort. If you want to know more about foam encapsulation, head over to our guide on foam encapsulated mattresses.
5. Pillow top layers
Pillow top layers provide an extra layer of comfort, which is why it is important that they keep their shape. Reflex foam can be used in pillow top layers for enhanced durability and a good level of firmness, so you can enjoy extra support for longer.
Shop all reflex foam mattresses
---
Is a reflex foam mattress right for me?
Reflex foam mattresses are suitable for a wide range of people. Whether you suffer from allergies, or you need a little extra support for your back, read on to find out how reflex foam could benefit you.
Allergy or asthma sufferers Reflex foam is made from polyurethane, which is resistant to dust mites.
Those who suffer from back or neck pains Reflex foam evenly spreads body weight and can help reduce pressure points.
People with a larger build Because reflex foam has a high density, it can provide a better level of support to those of a heavier weight.
Those who require orthopaedic support Thanks to its supportive structure, reflex foam is used in orthopaedic mattresses to ensure healthy spinal alignment.
Children who sleep on a bunk bed Bunk beds come with mattress height restrictions. Reflex foam removes the need for springs and can offer greater support within the safety guidelines of a bunk bed mattress.
---
Is reflex foam just another word for memory foam?
Due to its increase in popularity, memory foam is the most recognised foam on the market. However, some retailers try to sell reflex foam as just a different type of memory foam.
In fact, memory foam and reflex foam differ in the way they are manufactured. As a result, each offers a very different feel. In this next section, we'll look at the key differences between reflex foam and memory foam.
Reflex foam and memory foam: what's the difference?
Reflex foam is made up of tiny bubbles which squash sideways when pressure is applied. This causes the foam to part-fit your body whilst trying to regain its original shape.
Memory foam consists of small holes that allow air to escape. This process allows memory foam to mould to your body's contours and give a more cushioned feel.
Here's a summary of how reflex foam and memory foam differ:
| Reflex foam mattresses | Memory foam mattresses |
| --- | --- |
| Made up of tiny bubbles | Made up of small holes |
| A firmer sleep surface | Can feel softer and more sumptuous |
| Great for back support | Can feel warmer and cosy |
| Usually cheaper | Adjusts to body temperature, moulds to your contours |
Reflex foam mattress or a memory foam mattress: which should I choose?
Reflex foam and memory foam offer different benefits. This can make it difficult sometimes to choose between the two!
We have a range of mattresses here at Mattress Online that combine reflex and memory foam for the best of both worlds. If you're not sure what's right for you, feel free to get in touch, and we'll happily provide advice and guidance on the best mattress for you.
---
Does reflex foam smell?
Reflex foam itself doesn't have a particularly strong smell. However, to ensure the mattresses ticks all the boxes when it comes to safety, the foam is treated with a fire retardant.
Mattresses are often vacuum-sealed, so the smell of this retardant is trapped within the packaging. This means a slight smell may be noticeable when first removed from the packaging. Leaving the mattress to air in a room with plenty of ventilation for 24 to 48 hours will help remove any smell.
---
How long do reflex foam mattresses last?
Reflex foam mattresses are durable and resilient. However, after many years of use, reflex foam may lose some of its strength to push back against your body. This means your reflex foam mattress may not offer the comfort and support you require. Like with all mattresses, we recommend that you change your reflex foam mattress every seven years.
---
Reflex foam mattresses: best sellers
You can choose from lots of mattresses that feature reflex foam. Here are our most popular reflex foam mattresses: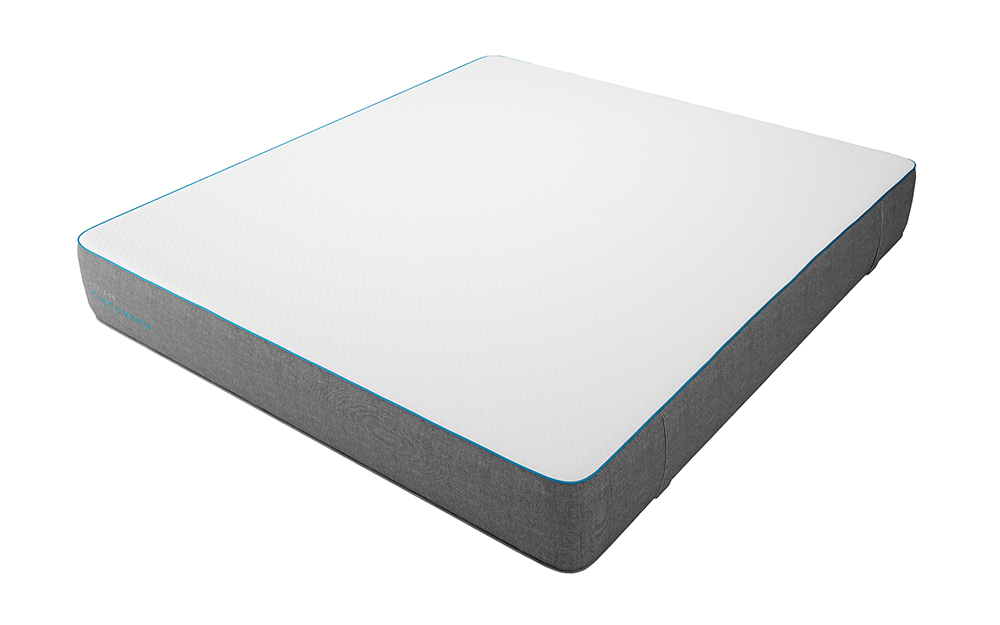 Check out the video below for more information on the Horizon Discovery!
To find out more about the Luna Memory 2500, watch the video below.
Browse all reflex foam mattresses
---
Reflex foam is the unsung hero within many mattresses. A reflex foam mattress offers support and firmness, allowing other fillings, such as memory foam, to take centre stage. Whether the mattress is solely made of reflex foam, or uses it as a support layer, reflex foam mattresses are sure to offer excellent back support, helping you to wake up free of any aches and pains.