Here at Mattress Online HQ, we're thrilled to be taking the leap into the new year and if your New Year's Resolution was to take better care of yourself, why not start with a new mattress?
Your mattress should be changed ideally every seven years, but too many of us end up leaving it even longer. The new year is a great time to make the switch and take advantage of the January sales!
A fresh mattress can improve your sleep, health and get the new year off to a flying start. Take a look at some of our top mattress picks of 2019 if you're not sure where to begin. We've compiled a list of customer favourites which includes award winners, new releases and some bestsellers you may recognise.
Sustainable materials and outstanding support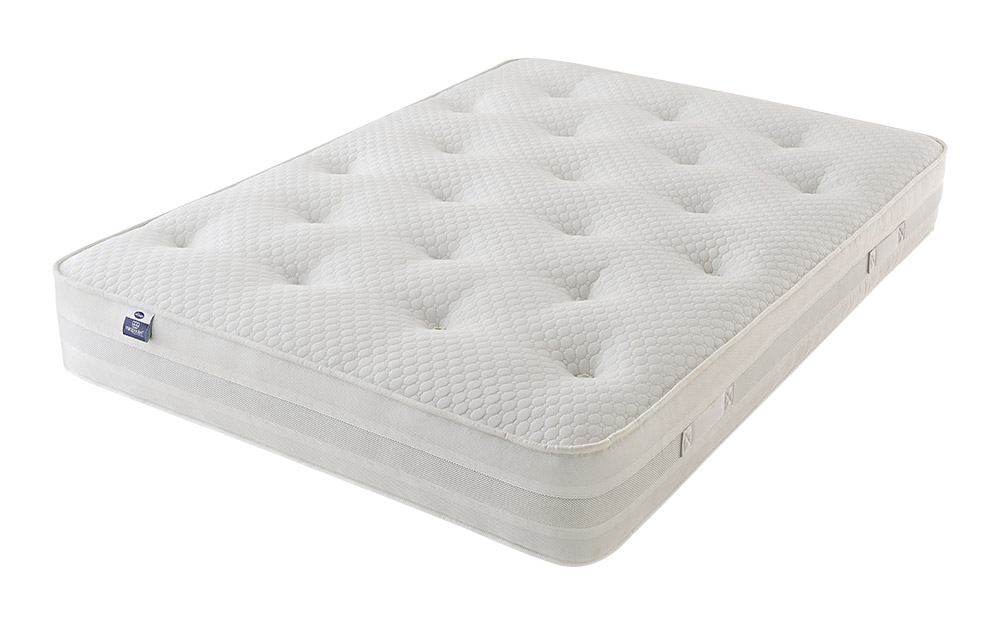 Sustainable Eco Comfort Fibres™
1200 supportive pocket springs
From only £289.95
We begin with a firm favourite loved not only by our customers, but the Good Housekeeping Institute. The Sofia by Silentnight is a fantastic, pocket sprung mattress famed for its outstanding comfort and sustainable recycled comfort fillings.
You can sleep soundly on the Sofia, knowing you've done your bit for the planet as well as something good for yourself.
Best review:
"Supremely comfortable mattress! Best buy ever."
A Which? Best Buy June 2020
A Which? Best Buy in June 2020
Luxurious pillow top
From only £489.95
The Nostromo has been awarded a Which? Best Buy endorsement and is a great choice if you enjoy a luxury feel. Sink into the Nostromo's sumptuous pillow top and enjoy the pressure relief of its natural latex comfort layer. Latex is a fantastic comfort material which moulds and conforms to the body for a sleeping experience that is totally personalised to you.
Best review:
"Since getting our new mattress, our quality of sleep is so much better. No waking with aches and stiff backs."
Natural mix of wool and cotton fillings
All natural fillings
Medium-firm feel
From only £249.95
The Novo Pocket 1000 Traditional is a wonderful and affordable pocket sprung mattress, filled with a fresh, comfortable blend of springy wool and cotton. With a slightly firmer than average feel, this mattress provides support to the entire body to benefit your back and relieve pressure to your joints. Choose cool and breathable natural fillings to lull you to sleep in 2019.
Best review:
"I look forward to going to bed every night ... I thought this was a good price for all natural materials."
Space-age memory foam for an incredible sleep
Deep graphite-infused memory foam
800 pocket springs for perfect support
From only £249.95
Experience a sleep sensation that's truly out of this world! The Horizon range is hypoallergenic, boasting extra-deep layers of graphite-infused memory foam and supportive pocket springs.
The Odyssey contains two types of foam to create a unique and comfortable sleeping experience. Sumptuous memory foam conforms to the contours of your body, whilst the high-density polyurethane base provides vital support.
Best review:
"Noticed the improvements on the first night. A great investment and wish I had done it sooner."
Finally - an extra firm mattress that's affordable too!
Extra firm, orthopaedic feel
Highly beneficial for your back
From only £174.95
On this list for the second time, our customers still love the Ortho Dream Star! With an extra firm feel, this mattress is perfect for relieving back pain and making sure your spine is properly aligned while you sleep.
Orthopaedic mattresses can sometimes be expensive but with its great price and high performance, the Ortho Dream Star remains a firm favourite. There's no need to book an expensive yoga retreat this year - invest in your mattress instead!
Best review:
"The perfect firm mattress! Been looking everywhere and I finally got it, at a great price!"

Cooling bamboo fibres for a fresher sleep
Cooling sleep surface
Soft-to-touch bamboo cover
From only £136.45
Our customers love the Bamboo for its cooling cover which wicks away moisture for a fresher, cleaner night's sleep. Bamboo is not only fresh and comfortable but is a sustainable material that more and more customers and choosing. Be ahead of the curve with this fantastic memory foam mattress!
Best review:
"Exactly as described. Very comfortable."
Contemporary design with futuristic cooling foam
1000 Luna Pocket® springs
Deep layer of Luna Fusion Cool Memory Foam
From only £224.95
A good memory foam mattress needn't cost you an arm and a leg! The Luna Memory 1000 Pocket Mattress is a Mattress Online exclusive and a huge hit with our customers.
Like many modern memory foam mattresses, the Luna arrives rolled up and boxed for your convenience. Place it in a room of your choice, release it from its vacuum packaging and watch it grow to its full, fabulous size! It is very lightweight and has a wonderful cooling system which means you'll be sleeping fresh every night. Treat yourself to the mattress of the future!
Best review:
"Very comfortable and supportive yet not too firm. Perfect for us and very good for the price."

Hypoallergenic - great for allergy sufferers!
1000 individual Mirapocket springs
Edge to edge support
From only £189.95
If you prefer a more traditional mattress feel over modern foam layers, then Silentnight has got you covered with the Essentials Mirapocket 1000 Mattress. Part of the Essentials range, these mattresses offer great comfort at a reasonable and accessible price.
With the Mirapocket 1000 you can enjoy premium features such as movement-absorbing pocket springs and an attractive microquilted cover, without breaking the bank. The polyester comfort fillings have cooling properties and are entirely hypoallergenic - making this a fabulous choice for allergy sufferers.
Best review:
"Extremely well priced and comfortable. This is the second one I have purchased."
A memory foam mattress, perfect for any budget!
Comfortable memory foam
Fresche hypoallergenic technology
From only £114.95
If you've put yourself on a strict budget this year, then don't worry - you can still afford to treat yourself to a new mattress with the Bodyshape Value Memory. Great value for money, this mattress includes a removable cover for easy washing and Fresche antimicrobial technology. Fresche also combats dust mites for longer use and a better night's sleep.
Excellent value for the low price, the Bodyshape Value has been a firm favourite with our customers and we predict it will continue to be in the coming year!
Best review:
"Bought this for my daughter and she loves it. Very, very comfortable."
Excellent body-wide support with a cosy knitted cover
Perfect sprung support
Authorised by the Orthopaedic Advisory Board
From only £179.95
A fantastic offering from Sealy, the Mulberry is a great all-rounder. It's a supportive mattress featuring Sealy's exclusive PostureTech springs. Supportive and comfortable, it's been approved by the Orthopaedic Advisory Board. With a luxurious, soft knitted cover and easy to care for, single-sided design, the Mulberry could be a great addition to your bedroom this year.
Best review:
"Excellent value for money. Very comfortable and sleeping so much better since the purchase of this mattress."
So there you have it: our top mattress picks for 2019! Discover which mattresses made it into our top ten 2021 or visit our mattress store today.