Choose a comfortable mattress
Your mattress should be comfortable and supportive, particularly if you have a mobility difficulty. It should relieve pressure point build-up and correctly support your spine. Your mattress should also be of the right firmness for you.
If you can answer "yes" to the following questions, it's time to think about replacing your mattress:
Is your mattress more than seven years old?
Does your mattress dip or sag in places?
Do you wake up with back pain, or do you wake up feeling stiff and sore?
Is your mattress generally uncomfortable?
---
Consider an adjustable bed
Do you find it difficult to get in and out of bed? Perhaps it's hard to sit up in bed or lie back down again. Maybe you suffer from pain or discomfort in bed. An adjustable bed is particularly beneficial if you have a mobility difficulty, since you can:
Safely sit up or get in and out of bed
Use a hand-held remote control to raise or lower sections of your bed
Alleviate painful pressure points
We offer a wide range of adjustable beds and mattresses, complete with free delivery, installation and demonstration by our trained delivery team. Additionally, if you are registered disabled, you may be able to claim the VAT back on your adjustable bed. This can help make your new bed purchase more affordable.
View our adjustable beds and mattresses
---
Add a little extra comfort
Perhaps you simply need a little more comfort in bed. A mattress topper is a good option if you're looking for an additional layer of support without resorting to buying a new mattress, if you don't need one just yet.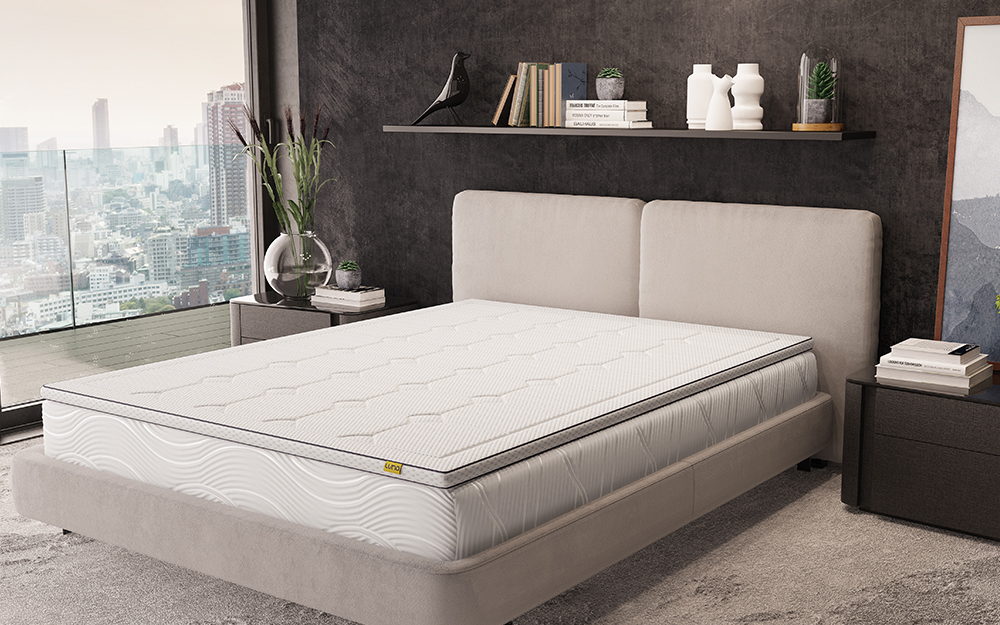 Check out our mattress topper collection
---
Change your pillows regularly
Does your pillow offer adequate support for your head and neck? If you wake with a stiff neck, you may need to change your pillow. Pillow depth is also important to consider:
If your pillow is too deep, your head and neck could be bent upwards
If your pillow is too shallow, you won't get the correct level of support you need
We offer a wide range of pillows, including memory foam and latex pillows, in a variety of firmness ratings and depths, that could help alleviate your discomfort.
---
Sleep in a good position
Do you prefer to sleep on your side? Maybe you sleep on your back, or your front. Whatever your preferred sleeping position, if you have a mobility difficulty, consider whether this could actually contribute to any pain and discomfort. For instance, if you have sore shoulders or hips, sleeping on your side may worsen this. Sleep in a position that is most comfortable for you, and that helps to minimise any aches and pains.
---
Keep warm
Your bedroom should be warm enough, but not too hot that you find it difficult to get to sleep. The ideal room temperature for sleep is between 16-18°C, however, this varies from person to person. Try keeping a thermometer in your room to help you find the ideal temperature for you.
Do you feel too cold at night? Set a minimum temperature for your central heating so that it never falls too low. You could also set the heating to come on an hour before you wake up, so that you're not cold in the morning.
Choose a duvet in tog ratings 10.5 or 13.5 for a warmer, cosier feel. Keep spare blankets or quilts within easy reach, so that you can layer these over your duvet if you are cold during the night.
Choose bedding fabrics made from natural fibres, such as cotton. Ensure that your bedclothes are loosely fitting and comfortable. Bed socks and warmer bedclothes can really help to keep you warm throughout the night, especially if you suffer from poor circulation.
---
Keep your bedroom tidy and safe
Tidying excess items away can make a big difference to your safety in the bedroom, particularly if you have a mobility difficulty. Removing unnecessary items of furniture and ensuring there's a clear pathway from the bed to the door will all help you to move more freely around the room, especially if you require a walking aid.
Keep your most important items, such as your phone, within easy reach when you're in bed. This can provide the reassurance you need if you want to get in contact with a relative or carer. If you struggle to reach a bedside table, an over-bed table could be a safer, more practical alternative for your important items.
---
Ensure your bedroom is well lit
Is your bedroom adequately lit? Ensure that you can easily use your main light switch, and that you have a bedside lamp. Installing an extra main light switch next to your bed enables you to get up in the night easily and safely, if you need to. Additionally, you may find a bedside touch-lamp easier to use than a standard lamp with a switch.
---
Improve your sleep quality
If you have a mobility difficulty, you may find that your quality of sleep is reduced. Consistently poor quality sleep can negatively impact health and wellbeing, so in this next section, we take a look at how you can improve your quality of sleep.
1. Stick to a schedule
Try to keep daytime napping to a minimum, as this can disrupt your sleep in the night. The recommended amount of sleep for an adult is between seven and nine hours, so aim for this as a starting point, and adjust to suit your individual needs. Waking up and going to sleep at the same time every day can help your body to learn when you are tired, and when it's time to wake up.
2. Move regularly
Gentle, daily physical activity can help improve sleep quality, so long as it's not too close to bedtime. Find out how exercise can improve sleep in our guide.
If you have a mobility difficulty, please do discuss suitable exercises with your doctor first, who will be able to advise you further.
3. Get some exposure to natural light
If you have a mobility difficulty, it can be difficult to get enough exposure to daylight. However, daylight is an important regulator of our natural sleep-wake cycle. Also known as the circadian rhythm, it helps us understand when we should feel sleepy, and when we should feel awake and alert. Try to spend at least 30 minutes outside each day, if you can, to ensure that you are getting some natural light. You may find that this helps to improve your quality of sleep.
---
We hope that this guide has helped you to improve your sleeping environment and sleep quality.