Set your reminders for the 27th of November because it's Black Friday time again!
Mattress Online, you can enjoy amazing savings all the way up to Black Friday with our Black November deals! We'll have all the best mattresses on sale - starting from Monday 2nd November - and carrying well on into Black Friday!
Each week, we'll feature brand-new deals from big-name brands such as Silentnight, Casper, Simba, Nectar - and so much more.
We have a brilliant line up of offers that you won't want to miss so you can have a perfect night's sleep at an incredible price! Take a look at our Black Friday Top Ten Deals and get yourself a mattress with up to 70% off big brands and Free Next Day Delivery.
Top 10 Black Friday mattress deals for 2020
Treat yourself to this incredible mattress.
Why it's great!
Free Next Day Delivery
From only £321.70
With foam and miQro® pocket springs
Featuring a breathable and hypoallergenic cover
This Simba Hybrid mattress really has it all. With a breathable foam layer for a cooler night's sleep and 1500 miQro® pocket springs for your support, it's safe to say you'll have an amazing sleep. Enjoy extra sleeping space with the Simba's reinforced edges so you'll never have to complain about having no room in bed!
Most comfortable mattress I've ever had

Helen
Amazing support and great value for money.
Why it's great!
Free Next Day Delivery
From only £148.88
Supportive Miracoil spring system
Breathable for a cooler night's sleep
Durable, elegant and supportive - what more could you want from a mattress? One of our best-sellers, the Miracoil spring system will provide complete support throughout the night. Made with breathable Eco Comfort Fibre™ technology, you can enjoy a cooler night's sleep.
It is very comfortable and firm

Emily
This multi-award-winning mattress really is the full package!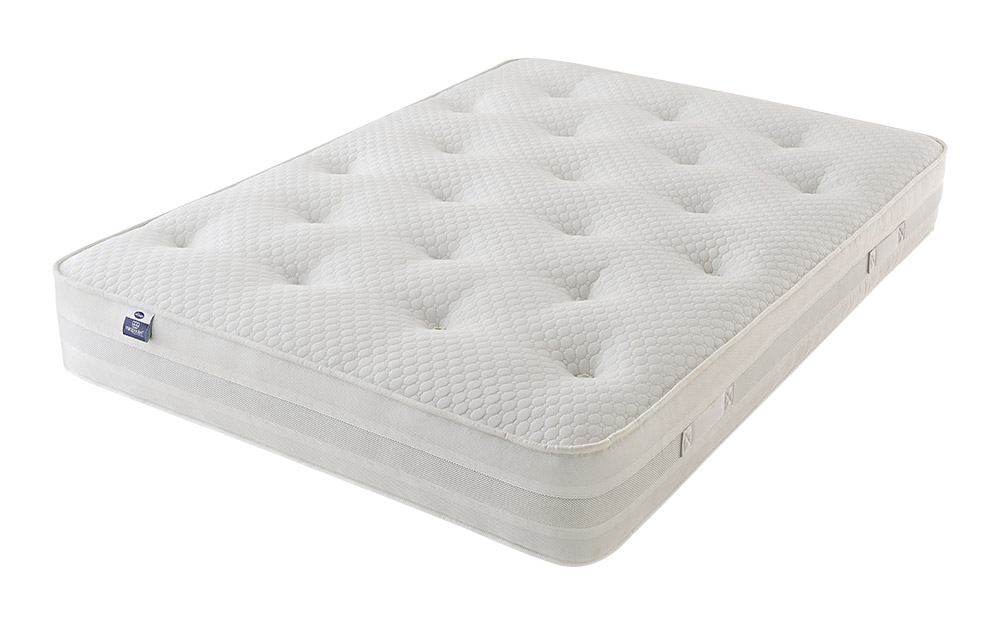 Why it's great!
Free Next Day Delivery
From only £289.30
1200 Mirapocket springs for zonal support
Awarded the Good Housekeeping Institute's Getting Greener award, this truly is an amazing mattress. Complete with Silentnight's Mirapocket spring system and zonal support, you'll get the most comfortable, supported night's sleep you've ever had.
Comfortable, supports & accommodates both partners of different weights

Janet
Pressure-relieving and cool so you can get the best night's sleep.
Why it's great!
Free Next Day Delivery
From only £529.95
PostureTech Core Support
100% recyclable at the end of its life!
You'll be sleeping in style with the Sealy Alston. With a pillow top finish and perfect support, you'll get a great night's sleep. You'll feel cool and fresh, thanks to built-in Geltex layer. What's not to love?!
"I have finally had a good nights sleep and woke with no back pain the first time in 3 years"

Justine
A stunning new addition to your bedroom this Black Friday.
Why it's great!
Free Next Day Delivery
From only £246.75
100% fleece wool
Natural, breathable fillings
Expertly handcrafted in the UK, this mattress is ultimately designed for comfort. Made from layers of premium Hampshire fleece wool, you can enjoy a mattress that is cosy and springy but will also keep you warm in the winter and cool in the summer.
Quality product in both materials and quality of finish.

Anna
An extra-firm mattress that doesn't cost the earth - or your wallet!
Why it's great!
Free Next Day Delivery
From only £178.67
Extra-firm Miracoil support
Made from Eco Comfort Fibre
If a firm mattress is what you've been searching for this Black Friday then look no further. This mattress includes Silentnight's unique Miracoil spring system, a plentiful layer of 100% sustainable, eco-friendly fillings and is topped off with quilted damask fabric to give you all the support you'll ever need.
Sorted my lower back problem out

Donna
Loved by all!
Why it's great!
Free Next Day Delivery
From only £349
Rated Gold by Real Homes Loves
Featuring three premium foam layers
The Nectar is perfect for every sleeper. Loved by everyone, it won the Good Housekeeping Institute's Getting Greener award. It even received Best Mattress in the Evening Standard!
It's three-foam design makes sure you get all the support you need. And thanks to the extra breathable top layer and perfectly pressure-relieving middle, you're going to have a super-cosy sleep!
Superb mattress, good value and a ridiculously comfortable sleep.

Adrian
Perfect for your back!
Why it's great!
Free Next Day Delivery
From only £199.24
1000 pocket springs for great support
Orthopaedic level of support
This mattress was designed with your back in mind. Complete with 1000 pocket springs, you'll get exceptional support while you sleep and it will provide pressure relief in the areas you need it most. It's firm feel offers amazing support - and your back will thank you!
Firm and comfortable

Laura
Great value for money and amazing for your back!
Why it's great!
Free Next Day Delivery
From only £127.61
Open coil spring system
Medium-firm for orthopedic support
A beautifully crafted traditional mattress hand-made in Yorkshire. Open coil springs and a sumptuous layer of upholstery fillings mean that you will receive orthopaedic-level support without missing out on any comfort.
"So comfortable and brilliant for anyone suffering from back pain."

Manu
Cosy, comfy and easy on the wallet… what's not to love?
Why it's great!
Free Next Day Delivery
From only £139.30
2cm of reflex foam
Whole body support
Comfort is what this mattress does best. The reflex foam hugs your body as you sleep so you can sink into your mattress after a long day. The 800 individual pocket springs adapt to your movements so pressure is relieved from your joints where you need it most.
"Very supportive and yet very comfortable"

Jillian
With Christmas fast approaching, Black Friday is the perfect time to snap up a great mattress bargain.
Discover all our 2020 Black Friday mattress deals and grab an amazing bargain! You can save hundreds on a mattress and get up to 70% off big brands like Silentnight, Sealy, Casper, Nectar and more.
So don't miss out - shop our Black Friday mattress sale today and enjoy Free Next Day Delivery too!